Page 4: Return of The Jedi
Jabba the Hutt Action Playset - As promised on page 1, here is Jabba the Hutt (Real name Jabba Desilijic Tiure). Jabba was one of the most notorious Hutt crime lords in the galaxy running his empire from his desert palace on Tatooine. In this set, Jabba the Hutt comes with his monkey-lizard court jester, Salacious Crumb, a throne/prison base which is opened by turning the gargoyle heads on the front of the base, and Jabba's joonga pipe (a hookah pipe used by members of the Hutt species). The playset is in excellent condition and includes a (poor condition) outer box, inner cardboard packaging and instruction leaflet.


ISP-6 Imperial Shuttle Pod - Pictured below, this was one of my favourites of the small vehicles. It was released in 1983 and seating one figure, is basically a miniature version of the Imperial Shuttle seen in Return of the Jedi. It has moveable wings which can be locked in the upwards position, laser cannon and an opening cockpit. Model still has a cut-out from the front of it's box:
AST-5 Armoured Sentinel Transport Vehicle - The AST-5 Armored Sentinel Transport was an atmospheric combat vehicle. Pilots of the AST-5 were known to include the Klaatu and bounty hunter Boba Fett. The model below, released by Kenner in 1983, features a rotating cockpit for sentry or attack modes and fully rotating blaster cannon on reach side. The AST-5 holds one figure and includes a cut-out from the front of the box.
Endor Forest Ranger - The Endor Forest Ranger was part of the last set of Kenner's Mini-Rig line to be released (in 1984). It features a closed gyroscopic cockpit, two large blaster cannon and two smaller, front-firing cannon. Model includes cut-out from front of box. This model is in excellent condition.
Ewok Assault Catapult - Released in 1984, the catapult below uses simple Ewok technology. And like many simple things, it still works! Not to be confused with another Ewok catapult from much later (2013).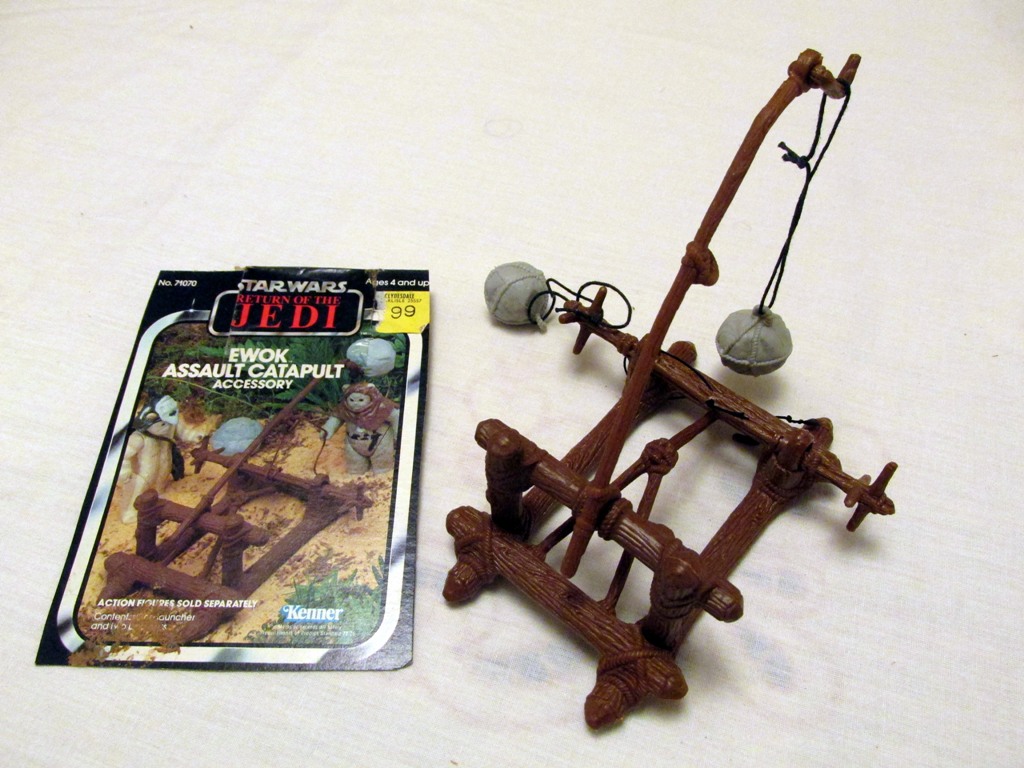 Ewok Combat Glider - First released in 1984, it features an adjustable harness and an action lever designed to drop "boulders" on the enemy. Accompanied by outer box but only one "boulder".
Scout Walker Vehicle - The Scout Walker (AT-ST) does actually feature for a second, or so, in The Empire Strikes Back, although came to prominence in Return of the Jedi. The model below is from the Return of the Jedi era and contains several features including a button on the back for 'walking', a rotating head which has a small opening hatch in a lid, which itself opens and an array of moveable cannon. It is complete with no broken plastic parts (I sometimes mention this for the larger and more brittle looking models only) and outer packaging which is in a poor condition. Note: In 1995, Hasbro used the moulds of the old Kenner toy to create a new more detailed version.
Speeder Bike Vehicle - Who can't have watched Return of the Jedi and forgotton these? Again, like everything on this page, an original Kenner model, none of the post-80's re-designed and re-marketed stuff here. The model below was released in 1983 and is still in excellent condition. A classic toy featuring a fully working release button on the back that 'blows' the thing apart. Complete with inner and outer packaging.
The following (and last) Page covers a few extra items in the collection.
Back to Top