Page 3: The Empire Strikes Back
AT-AT (All Terrain Armored Transport) - This model of an iconic symbol of The Empire Strikes Back was first released in 1981; the one below was bought a few years later in Return of the Jedi packaging. Like the Millennium Falcon, it is a classic toy which contains pegs on the base that slot into the holes of the figures, enabling them to remain standing whilst the vehicle is moved. The AT-AT below is complete with no broken plastic parts. It features chin guns that light up and move backwards and forwards when a button on the control lever inside is pressed. The control lever can be used to tilt the head up and down and from side to side. The cockpit in the head opens up and seats two figures. Other moveable parts include rotating guns on the side of the head, the side door which can be opened and the legs which can be adjusted into stable configurations for many different postures for the vehicle. The AT-AT below still has its instruction leaflet intact although all that remains of the box is the outer packaging which is in a poor condition.


Below are three more models from The Empire Strikes Back, each with no box. They are (Left to right): Radar Laser Cannon, which is seen being blown up in The Empire Strikes Back and so with the toy, press the button on the back and it 'explodes' into four pieces; The MTV-7 Multi-Terrain Vehicle which was used by the Imperial Army during the Battle of Hoth and seats one figure and the CAP-2 Captivator, a small one-man vehicle used by Snowtroopers (and the bounty hunter Bossk) to ambush and capture enemy personnel - this model houses one figure.
INT-4 Interceptor - This was released in 1982 along with the CAP-2. This mini-rig has an opening hatch (laser cannon missing). It has retractable wings which can be repositioned using a switch on the back. It also features landing skids and, as advertised, even fits in the body of AT-AT! Front of box accompanying the model.
Below is a cut-out from one of the Star Wars vehicle packages showing the 'Mini-Rigs' available at the time of the release of 'Wave 3' of this range by Kenner in 1983 (See Here).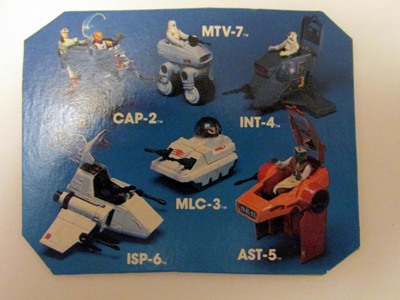 Back to Top