Page 2: Star Wars
Millennium Falcon Vehicle - Pictured below, this one has seen very little action and there are no broken plastic parts. It is still complete with the lightsaber training ball, secret compartment lid, radar, battle guns and hatch. The instruction leaflet is intact, although all that remains of the box is the outer carton which is in a fairly poor condition. As with all of the range of spacecraft/vehicles/etc. figures were not included.


X-Wing Fighter Vehicle - This particular model (below) has seen quite a bit of battle action to the extent where although the stickers that came with it give it the deliberate look of battle action, some actual physical damage occurred to the craft. It is unfortunate that as a result of this, an X-Wing pilot had to be pensioned off early and now lives sellotaped up residing in the photo of spare/broken bits on the last page. A new X-Wing pilot was drafted in for the figure collection and that particular one is in great condition. The X-Wing comprises a working switch and Artoo-Detoo (R2-D2) top which can be used to lock the wings in an open 'X' configuration. The front landing gear can be retracted for flight and the canopy, though clearly aged is not broken. Instruction leaflet and outer box (poor condition) still kept with toy that has literally been in the wars. Photos showing model more closely available on request.
Land Speeder - The Land Speeder was amongst the earliest range of Star Wars toy vehicles to go into production. The one in this collection is pictured below and although there is no box, is in a reasonable condition with working retractable wheels which lock in via the 'handbrake':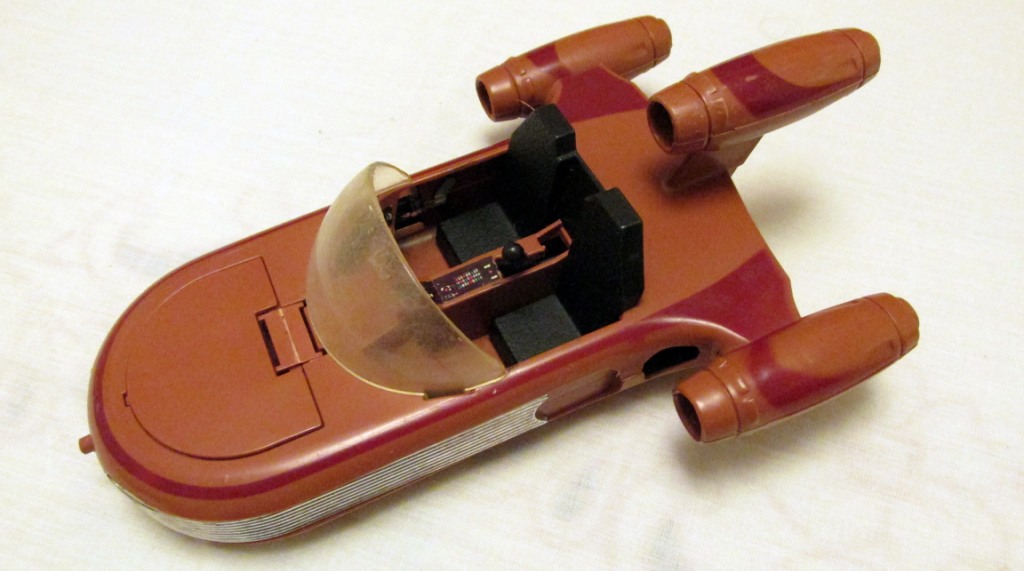 Vehicle Maintenance Energizer - This was released in 1985 by (as with everything here) Kenner. The Vehicle Maintenance Energizer was a device used to maintain starships and vehicles. The toy came with 8 Hydrospanners and 2 energy hoses. Below: The model is in good condition, apart from only 7 Hydrospanners still present. part of the box front remains.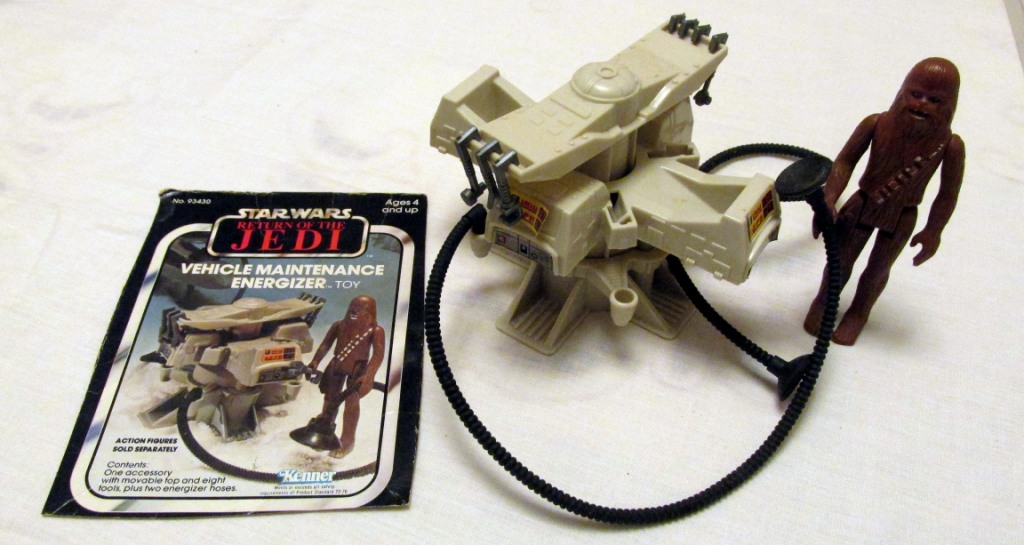 Next Page continues with The Empire Strikes Back...
Back to Top