This section of the website documents a visit made to The United Arab Emirates. A brief general description will follow on this page after the map below and the index, both of which link to 15 webpages covering most of the places visited. Note that place names may have different spellings, depending on source of information. The green line on the map below denotes the approximate routes taken by road. The numbers 1-15 on the map are active links to webpages, as described in the index below the map.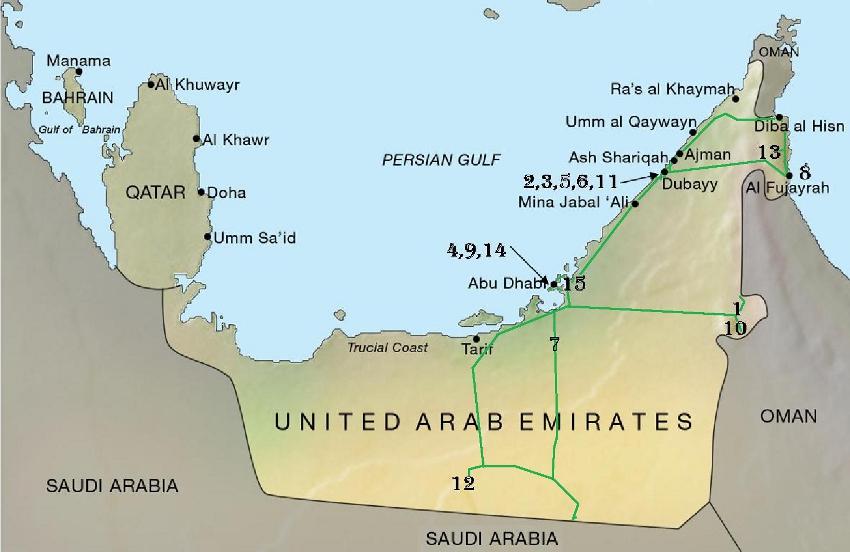 Original map courtesy of ILEX for personal use and modified for Robin's Website. Not to be reproduced for commercial purposes.
General Description
The United Arab Emirates (UAE), also simply called The Emirates, is a country located in the southeast end of the Arabian Peninsula on the Persian Gulf, bordering Oman to the east and Saudi Arabia to the south. The country is a federation of seven Emirates and each one is governed by a hereditary Emir. The Emirs jointly form the Federal Supreme Council which is the highest legislative and executive body in the country.
The country's population is just over 9.2 million and its area is 83,600 sq. km (32,278 sq. mi.). Arabic is the official language, although English is very widely spoken, particularly in the large cities. The country is largely very modern and we found the people extremely friendly and polite. Further information on the country may be gleaned from visiting the pages indexed above.
It is the aim of these pages to provide myself with a personal record of the visit and to provide a platform on which to share my photos to anybody interested.
General Notes
● These webpages are designed primarily for use on standard PC's.
● For Dubai, in particular, you will find these pages have a particular emphasis on the modern aspects of the country. This is because of the limited time spent there and the author's personal interest in skyscrapers.
● Photo quality has been significantly reduced for web publication.
● Photos to be labelled at a later date, time permitting.
● In Dubai, we bought first class tickets for the Metro. They are still relatively inexpensive (24hrs approx. £6) and make the journeys around the city a lot more comfortable.
● There was excellent provision for free parking, wherever we went. The petrol stations provide excellent amenities as well and fuel is considerably cheaper than in the UK.
● Some days, certain attractions are closed. Remember that Friday is the Holy Day for Muslims.
● For further information/identification of many of the skyscrapers in Dubai and Abu Dhabi shown on these pages, the following website is useful: SkyscraperPage.
● All photos are original copyrighted material. Also See disclaimer page here.
* Burj Khalifa is due to be overtaken in height by the Jeddah Tower (Kingdom Tower) in Saudi Arabia, due for completion in 2020. As of June 2016, the Jeddah Tower had reached the 42nd floor.