One of the things about travelling long distances, across rural areas in countries like the United States, Canada and Australia is finding roadside stops which have sprung up seemingly in the middle of nowhere with a need to create some form of attraction to drum up business from passersby. Da Yoopers Tourist Trap in Ishpeming, Michigan, may well be categorised as one of them. Ishpeming is on the Upper Peninsula (UP), the northern of the two major peninsulas that make up Michigan. The term "Yoopers", derived from "U.P.-ers", is the name frequently given to people from this part of the state. The author of this webpage paid a visit in September, 2018.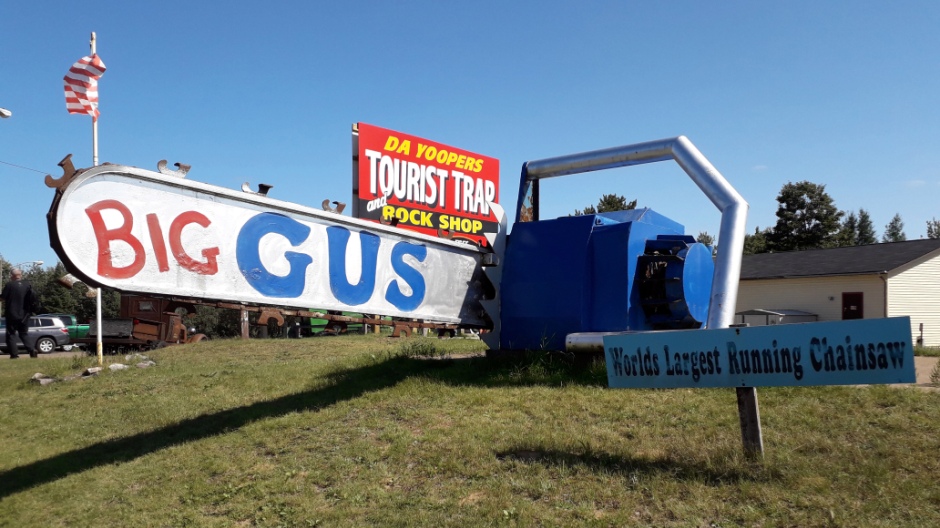 Above: One of Yooper's innovations, "Big Gus" – the largest working chainsaw in the world.
During the 1920's, when long-distance road travel became practical and popular, entrepreneurs began building diners, motels, shops and other businesses. In order to attract passing travellers, more unusual attractions started to spring up, many of which were buildings in the form of novelty architecture, monuments depicting common objects of gigantic proportions often relating to the items sold there, curiosities, and sometimes pseudo-scientific amusements.
Gaudy in nature, Da Yoopers Tourist Trap was founded by the original members of the Upper Peninsula comedy troupe Da Yoopers. The troupe has been famous throughout the Upper Peninsula with performances and comedy albums since 1975, with songs about aspects of U.P. life, such as beer, hunting, and snow shovelling. They have a recording studio located at the self-admitting, honestly named tourist trap, where a large shop sells all manner of tacky items, trinkets, mugs, T-Shirts and the like, including unusual gift lines of Yooper-made products. It is the sort of place where you buy stuff and then wonder many years down the line why your house is filled with so much junk.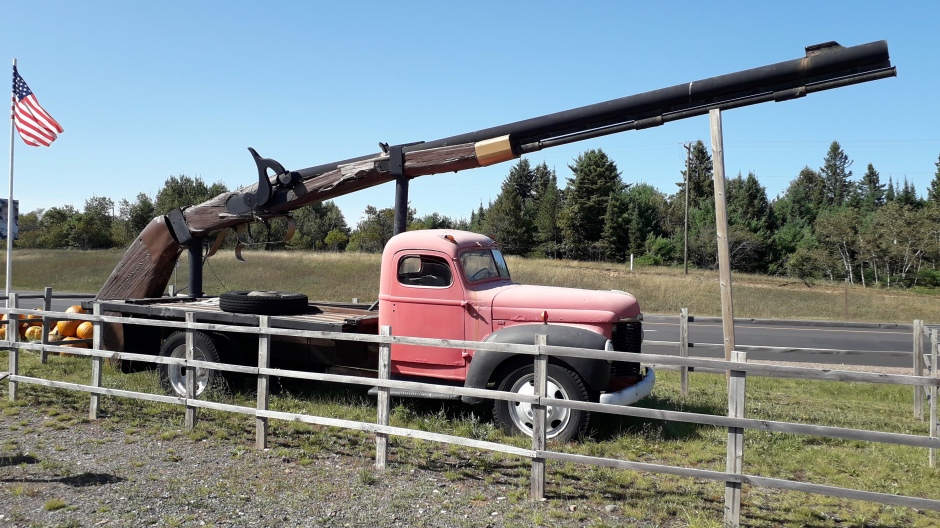 Above: "Big Ernie", the world's largest working rifle.
As well as the world's largest working chainsaw and working rifle, Da Yoopers Tourist Trap is home to many other Yooper innovations, such as "Christine On Steroids" (a 1957 Buick with a snowplough), and an eclectic mixture of pieces exhibiting bizarre U.P. humour. For a look at some of the wonders of this one-of-a-kind roadside attraction, photographs are shown in the thumbnail gallery below (click on an image to enlarge):
Back to Top