Tatev monastery is a 9th century complex located high up on a plateau in Syunik Province, south-eastern Armenia. Nearby is the village of Tatev, although the name is mainly used to refer to the monastery itself. The monastery is perched above a deep gorge through which flows the Vorotan River.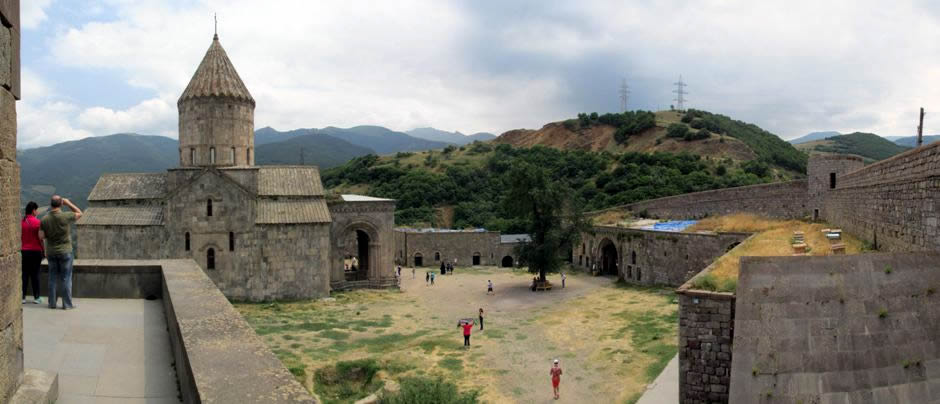 Composite image of Tatev Monastery Complex viewed atop the East Gate (Entrance)
A pagan temple once stood on the Tatev plateau and this was replaced in the 4th century by a small church, during a time when Christianity was being established in Armenia. Tatev monastery was then subsequently established in the 9th century and was to become one of medieval Armenia's most important religious, educational, political, economic and cultural centres (Tatev housed the Syunik Bishopric from the late 8th century). Inside the 17th century defensive walls of the monastery and dating from the same period were constructed several buildings. These included a number of churches, a two storey belfry dating from the 14th century, the primacy, monk cells, a bakery, kitchens, a refectory, a library, and baths.
As you approach the monastery, on the left you pass an old oil mill (Dzit Han), which was built in the 17th century [Photo 13 in the thumbnail gallery lower down the page]. The mill produced oil from plants including linseed, sesame and hemp which was integral to the life of the monastery and commerce. The mill was built just outside the walls of the monastery itself, so that villagers from the local area could access it without any interference to the monastic practices. The main church inside the monastery is that of St. Poghos-Petros, originally constructed 895-906 [Photo 20]. It is a domed structure and in 930 covered with frescoes. In 1043, a gavit hall was built adjoining the church (a gavit is a common structure found on a church in a Medieval Armenian monastery and serves as an entrance to the church, mausoleum and assembly room). The gavit hall adjoining the church of St. Poghos-Petros was, however, destroyed in an earthquake in 1931. Two other churches inside Tatev monastery are as follows; The Church of St. Grigor Lusavorich (Gregory the Illuminator) [photo 40], which was commissioned in the year 848 by Philip, Prince of Syunik (reconstructed 1046 and 1295) and The church of St. Astvatsatsin (Holy Mother of God) which was constructed in 1087 on top of the monastery gate [Photos 32 & 38, as examples]. Some additions to Tatev Monastery in the 18th century included a spring, turrets on the north wall and a school. The belfry today is early 20th century. Much of the monastery complex was destroyed the 1931 earthquake. Renovation and reconstruction began in the late 1960's with much work in the late 1990's. Restoration work on some parts of the monastery is still in progress today.

Above: Vorotan Valley, one of two The Wings of Tatev Cable Car crosses to take visitors up to the monastery
The monasteries of Tatev and Tatevi Anapat and the adjacent areas of the Vorotan Valley were placed on the UNESCO tentative list of World Heritage Sites in 1995. By far the easiest way these days to access the monastery is on the Wings of Tatev, a modern aerial tramway (cable car) constructed in 2010 by a Swiss-Austrian company. Listed in the Guinness Book of Records as the longest reversible cable car in the World, the 2 cars take up to 25 passengers each at a time on a breathtaking non-stop 12-15 minute ride over a distance of 5.75 km over two valleys. The maximum height between the cables to the ground below reached is 320m. Only 3 towers hold the cables up between the stations at either end. The cable car represents a large investment to help boost Armenia's tourist industry, which when considering sites like Tatev, does indeed have a great deal of potential for the future. [The photos below are in chronological order of my visit - hence Cable Car - Monastery - Return Cable Car]
External Link:
Official Website at https://www.tatever.am/en

Back to Top