Skopje is the capital and largest city of the Republic of Macedonia. It forms the country's political, cultural, economic, and academic centre. It is located in the heart of the Balkan Peninsula and has a history of over two thousand years. I explored the city on foot and began with a walk around the more modern parts of the centre located on the southern side of the river Vardar. The river itself runs through the heart of Skopje and is the longest and most major river in the Republic of Macedonia. The walk continued across the river to see an older side of the city's history.
Some of the main sights shown in my photos are summarised below.

Above: Palace of the Macedonian Parliament. This building houses the Assembly of the Republic of Macedonia.
Museum of the City of Skopje [photo 3, thumbnail gallery below]. Founded in 1949, this cultural institution is located in the former old railway station that was partly destroyed in the 1963 earthquake. The railway station clock remains on the front of the building that has been intentionally left with the frontage as a reminder of the earthquake which killed over 1070 people and destroyed about 80% of the city.
The Stone Bridge [photos 11 & 12]. Built between 1451 and 1469 over the river Vardar, with various times of repair, the bridge is 214m (702 ft) long. It connects Macedonia Square, to the Old Bazaar.
Skopje Fortress [seen in various photos from 16 to 32]. Built on a hill overlooking the city, it was originally built by the Byzantines in the 6th century. After the 1963 Skopje earthquake, the fortress's circular, rectangular and square towers were conserved and restored.
The Old Town [photos 33-37]. This was one of the largest and most significant oriental bazaars in the Balkans. It represents a mixture of Eastern and Western culture. A vibrant and exciting place to walk around, this part of Skopje features mosques, churches, a covered market (called a bedestan), a clock tower, Turkish baths and a variety of shops and cafes.
The Macedonian Radio and Television Centre [photos 42 & 43]. Built in 1984 and 70m (230 ft.) in height, it is the tallest building in the country.
A lot more about Skopje could be written here, although it would reach beyond the scope of this webpage.
Note: Apologies for the distorted images; I was living outside my native England at the time and bought a cheap camera for the trip!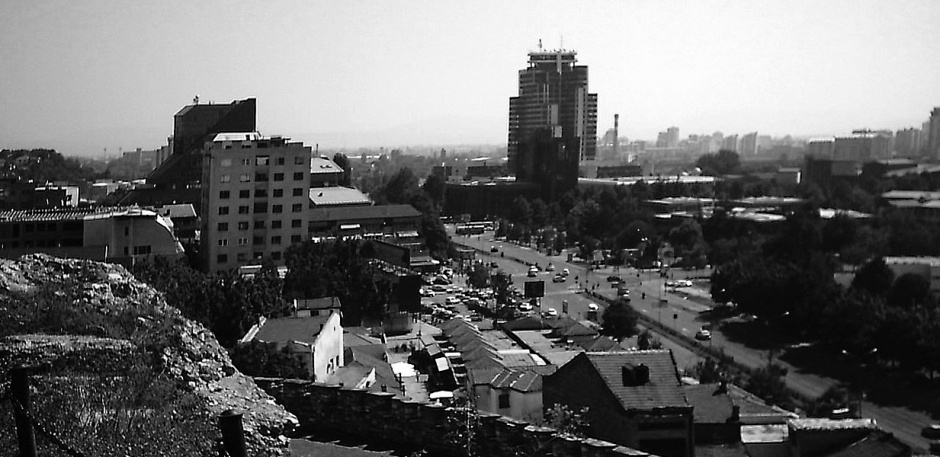 Back to Top