Siena is a city in the central Tuscany region of Italy and capital of the Siena province. It became a commune in the 12th century and reached a peak of prosperity in the 13th century. During the 13th and 14th centuries, the city was the centre of the Sienese School, and thus today has many art treasures; the Sienese School was an Italian school of painting which rivalled the School of Florence. It's most important representatives included Duccio, Simone Martini, the Lorenzetti brothers and Sassetta. Siena's Palazzo Pubblico (1297-1310) contains frescoes by Simone Martini and Ambrogio Lorenzetti.

Above: Piazza del Campo
Both the Palazzo Pubblico, with its tall Torre del Mangia, and the city's cathedral (11th to 14th centuries) are fine examples of Italian Gothic architecture. Siena cathedral was built during a time when Italian architects were grafting northern Gothic ideas of scale and ornament onto a Romanesque tradition and reflects the aspirations of its citizens. It stands on a site occupied until the 9th century by a church dedicated to St Mary. In 1179, a new larger building was consecrated. The cathedral had later Gothic additions to the west front. Aisle and clerestory windows received tracery, the vault was raised and the choir built out over the precipice, with a baptistery below and the cathedral reached the size and plan of the cathedral seen today. Planned in 1339, a large new nave was to have been constructed southwards from the building's hexagonal crossing, for which the existing nave and choir would have been merely transepts. Insufficient buttressing made this unsafe and due to other reasons, such as the plague of 1348 which decimated the population, the project was abandoned, although the new aisle walls and vaults remain embedded in later buildings.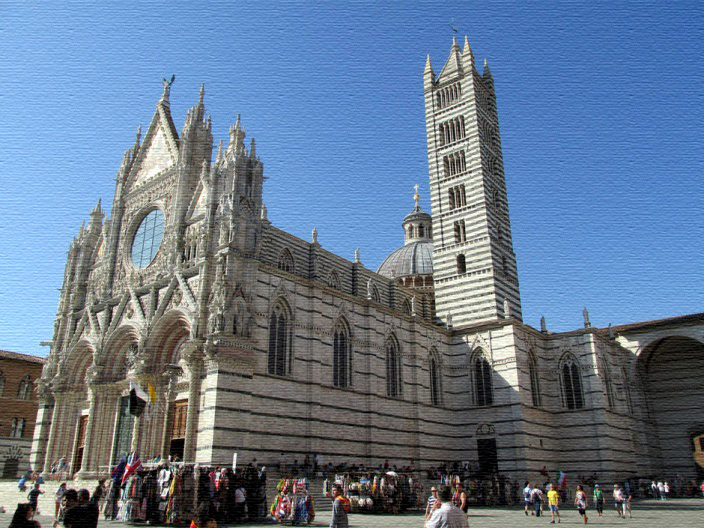 Above: Siena Cathedral
Other sites include the Piazza del Campo, a shell-shaped town square in front of the Palazzo Pubblico. The Piazza del Campo is part of the site for the Palio horse race and itself a great work of architecture, some great art museums, the Palazzo Salimbeni, the Accademia Musicale Chigiana (housed in the notable Gothic Palazzo Chigi-Saracini), a significant number of churches of note (such as Basilica dell'Osservanza, Santa Maria dei Servi, San Martino, San Domenico, San Francesco and Santo Spirito), the Sanctuary of Santa Caterina incorporating the old house of St. Catherine of Siena, the historic Siena synagogue, some fine gardens, the Medicean Fortress and numerous patrician villas located throughout the neighbourhoods. With all of this in mind, it comes as no surprise that the main industry of Siena, with a population of just a little under 54,000, is tourism. More photographs of Siena can be seen in the thumbnail gallery below (click on an image to enlarge):
Back to Top