Located in Elkhart, Indiana, the RV/MH Hall of Fame is a 100,000-square foot (9,290m²) centre, featuring a museum which features a unique collection of historical recreational vehicles and is also associated with the manufactured housing industry. Founded in 1972 as the Recreational Vehicle/Manufactured Housing Heritage Foundation, the museum opened in 1991 and moved to its current modern building in 2007. The MV/MH Hall of Fame's mission is "to be dedicated to preserving the history and honoring the pioneers and individuals who have made significant contributions to the RV and Manufactured Housing industries." It is a non-profit organization. Located just off Interstate 80, it is a convenient stop and although RV travellers form a portion of the visitors, it is ideal for anybody interested in wanting to know more. The photographs on this webpage were taken during a visit here in September, 2018.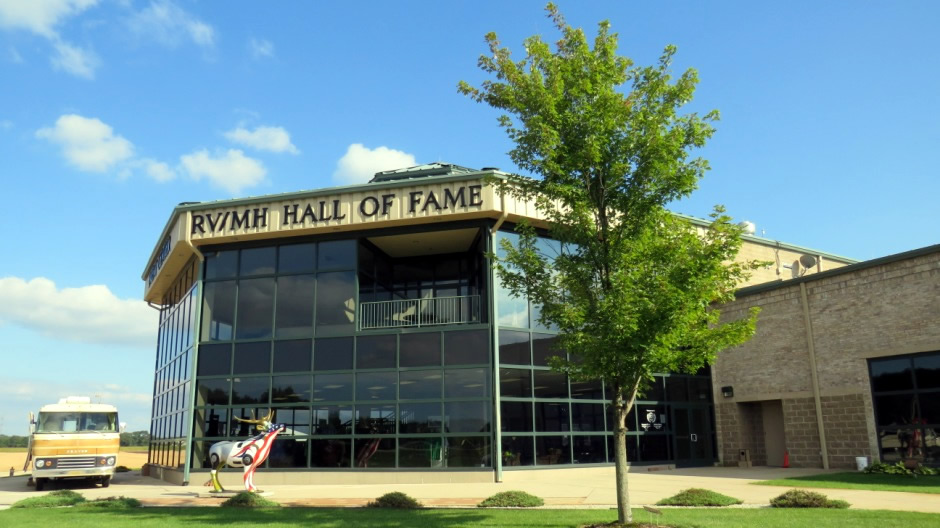 The Hall of Fame itself honours the leaders of the RV/MH industries. There are over 400 members in the Hall, which are documented on the "Wall of Fame". Also in the building is located a library, which serves the purpose of archiving the industry's history; over 20,000 industry publications, periodicals, records, and photos are maintained here. The main highlight for many visitors is perhaps the one-of-a-kind museum, which features the RV Founders Hall (see below). The centre was also established as an aid to promote the RV/MH industries, with the Go RVing Hall displaying new RVs and outside, a Manufactured Home display for the MH industry. The site also operates the Northern Indiana Event Center (N.I.E.C.) with over 35,000 square feet (3,250m²) of space available in seven different areas. The Exhibitor Hall contains a variety of informative displays illustrating the history and products of many of the parts manufacturers and service providers to the RV and MH industries.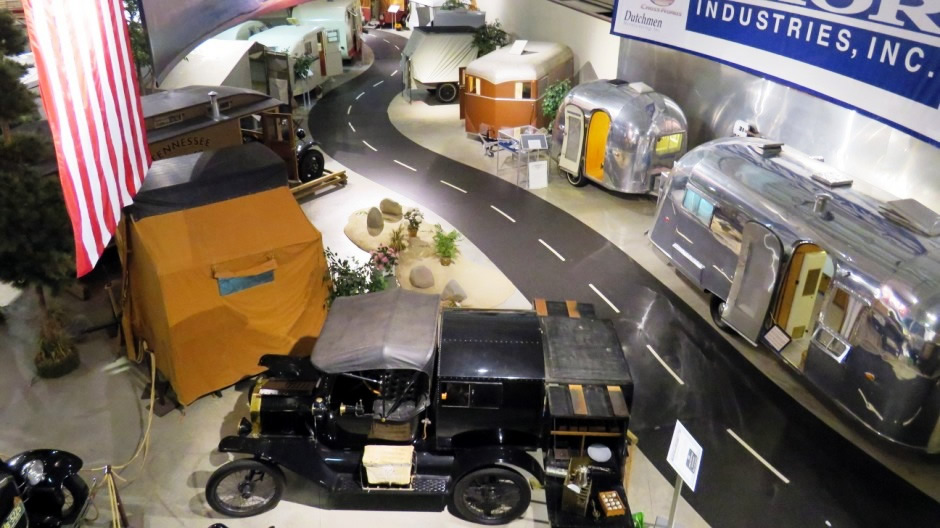 Above: View overlooking part of the RV Founders Hall
The RV Founders Hall displays trailers/RV's, photos, and memorabilia dating back 100 years and continuing through to the 1980's. For an admission fee, it is open to the public and as you head through, the museum presents chronological and technological advances in the industry. Artificial trees and other plants help to create the atmosphere of an RV campground. Along its "Road Back into Time", models on display include a 1913 Earl Travel Trailer (the oldest vehicle on display), Mae West's 1931 Chevrolet Housecar, a 1931 Tennessee Traveler Motorhome, a 1932 Gilkie Tent Trailer, a 1954 Ranger By Hille Engineering Pop Up Trailer, a 1969 Ford Based Chassis Mount Motorhome, a 1969 Fleetwood Pace Arrow, a 1974 GMC Motorhome (considered a classic), and a 1985 Bounder. Also here are the smallest Airstream and the oldest Winnebago ever built.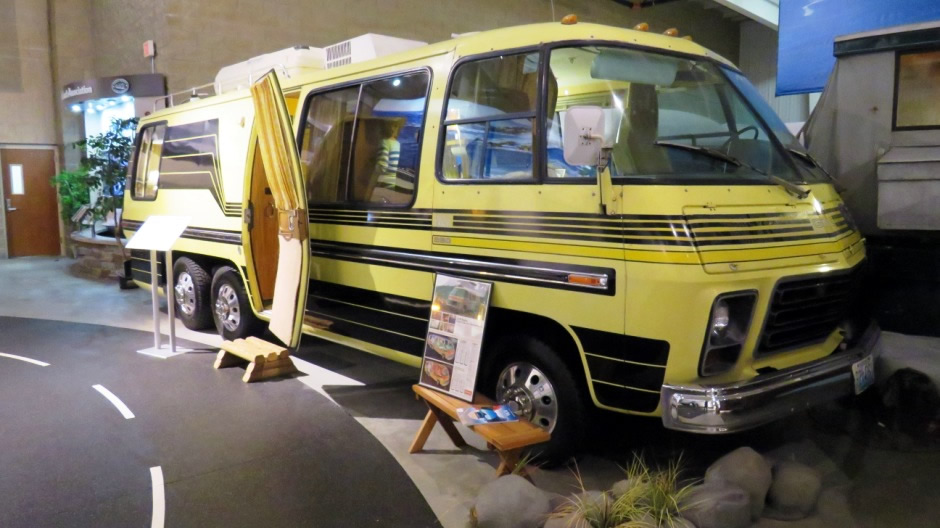 Above: 1974 GMC Motorhome in The RV Founders Hall
The Go RVing Coalition was formed in 1994 and consists of RV manufacturers, component suppliers, dealers and campgrounds. It was formed by representatives of Recreation Vehicle Industry Association (RVIA), Recreation Vehicle Dealers Association (RVDA), National Association of RV Parks and Campgrounds (ARVC) and leading state RV and campgrounds associations to "distribute information about the benefits of the RV Lifestyle". The Go RVing exhibition Hall at the RV/MH Hall of Fame includes a contemporary, state-of-the-art display, including a theatre, celebrating Go RVing's role in the industry. New RVs selected by the museum are also on display here, alongside Vehicles from the 1980's onwards. More photographs from the visit can be seen in the thumbnail gallery below (click on an image to enlarge):
Back to Top