At over 40km long and with an average width of about 10km, Lake Skadar (also known as Lake Scutari, Lake Shkodër and Lake Shkodra) is the largest in the Balkans. The lake is some 370km² of which two thirds belong to Montenegro and one third to Albania. After abundant spring and autumnal rainfalls, the lake swells to an area of some 530km². lake Skadar is generally shallow, although is up to 44m deep in places. As the surface of the lake is only 6m above sea level, in places, its bottom can be up to 38m below sea level. It is generally thought that that the lake basin is of tectonic origin and geologically, it is considered a relatively young ancient lake.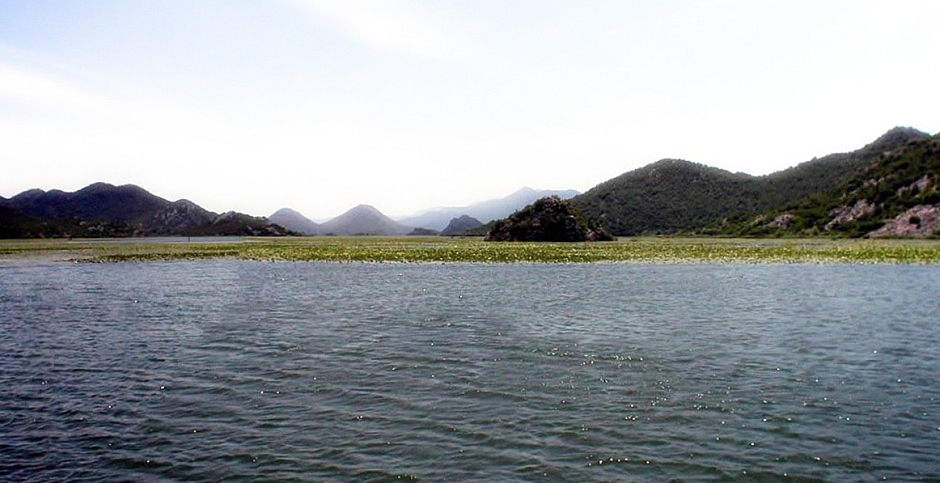 Above: Composite image of northwestern Lake Skadar where water lilies are in abundance.
Lake Skadar was declared a National Park in 1983. The national Park, covering an area of 40,000ha, is noted for its abundance of flora and fauna; the lake and its National Park is home to more than 40 species of fish, some of which are endemic, over 270 bird species (notably the pelican), swamp pants, rare water chestnut and carnivorous plants. Yellow water lilies sometimes cover the waters close to the shore, carpeting its surface (see photo above).
Fishing and cultivation of the fertile soil left after withdrawal of flood water along the lake's shores has formed an important part of the local economy for centuries. From the bottom of the lake are to be found numerous fresh water springs which provide a plentiful supply of drinking water. As is the case of anywhere in Montenegro, the lake, within its geographical setting, which includes some 50 islands, is steeped in the people's history. Of note here are, Žabljak, a fort (from 1478) and the capital of Zeta (a region) during the Crnojević era (The Crnojević was a medieval noble family that held Zeta, or parts of it), Grmožur island, best known for a prison, built by decree of Prince Nicholas, which is also known as the "Montenegrin Alcatraz." the nearby Lesendro, an imposing fort built on a bare rock rising from the lake, and a number of monasteries.
The photos below are taken from the Montenegrin side, from which it is possible to take a boat ride on the northern side of the lake. In addition, the lake may be seen as the M2 road crosses from the Adriatic coast heading towards Montenegro's Capital, Podgorica.
References
1. Montenegro by Branislav Strugar, Studio Strugar (2006)
2. Montenegro: Ecological State by Momir Bulatovic, Unireks (1996)
Back to Top