Khor Virap is an Armenian Apostolic Church monastery complex on the Ararat plain in Armenia. It is located on a small hill right next to the (closed) Turkish border and 30km south of Armenia's capital city, Yerevan. The monastery is a popular feature of guide book and brochure photos due to it being in view of Mount Ararat, a symbol of the Armenian people.

Khor Virap Monastery Complex
[Photo gallery to which numbers in the text refer to lower down the page]
The monastery complex at Khor Virap dates from the 4th-9th centuries. It attracts pilgrims as well as tourists and its significance is due to it being the location of a pit where Grigor Lusavorich, who later became Saint Gregory the Illuminator, was initially imprisoned for 13 years by King Tiridates III. He subsequently became the king's religious mentor, and they led the proselytizing activity in the country, converting Armenia from paganism to Christianity. In the year 301 AD, Armenia became the first country in the world to be declared a Christian nation. Saint Gregory was a religious leader and credited as the founding father of the Armenian Apostolic Church. The six metre deep pit where he was imprisoned has been preserved and sits underneath St. Gevorg Chapel, a small basilica southwest of the main church of the Khor Virap complex [A fairly plain building seen to the right in photo 19].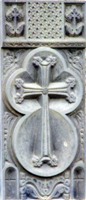 A chapel was first built here in the year 642 AD and over the centuries rebuilt. In 1662, The large St. Astvatsatsin (Holy Mother of God) church we see today was built around its ruins [e.g. Photo 16, below]. St. Astvatsatsin is typical in design, but fairly plain and sits, along with the St. Gevorg Chapel and various other components of the monastery, within fortified walls. The walls provide excellent vantage points from which to view Mount Ararat (as and when the weather permits). Beyond the walls, it is possible to walk further up the hill for views of the monastery complex in its entirety, the surrounding green pasture lands and vineyards, the rather distinct border with Turkey and, of course, more views of Mount Ararat [Photos 38-43].
Mount Ararat
Mount Ararat is known as the landing place of Noah's Ark and the point at which life began again after the Flood.. Although Mount Ararat forms part of Armenian national identity and symbolises their proud past, it is also a reminder of the nation's history for it now lies across a closed border in neighbouring Turkey. The mountain is a snow-capped and dormant compound volcano comprising two cones, Greater Ararat (5,137m/16,854ft) and Lesser Ararat (3,896m/12,782ft). Greater Ararat is the highest mountain in Turkey and of the Armenian Plateau. To read more about Mount Ararat (On Wikipedia), click Here.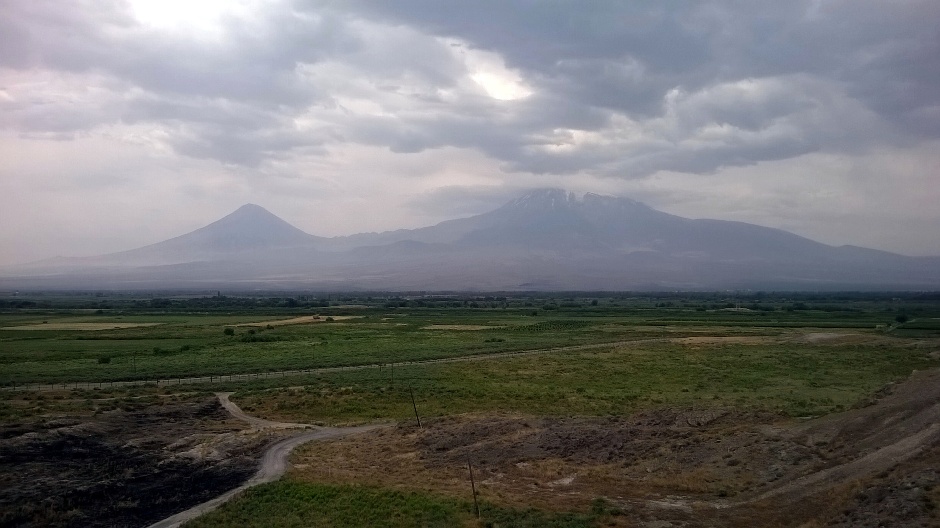 Back to Top