The world-famous city of Detroit is a port in southeast Michigan, USA. It stands on the Detroit River, just west of Lake St Clair and is the state's largest city. Its name comes from the French for "the straight". It was founded as a French fort and trading post in 1701 by the French fur trader Antoine de la Mothe Cadillac, and named Fort Pontchartrain. In 1760, the British captured it and used it as a base during the American War of Independence. Detroit suffered a major fire in 1805 and was rebuilt according to a plan of the governor. It served as a territorial and then state capital from 1805 to 1847 and lost to Britain in the war of 1812, subsequently being retaken by American forces the following year. A major rail centre, as well as Great Lakes port, the city's greater area is the headquarters of Chrysler, the Ford Motor Company and General Motors, hence its nickname of "Motor City" or "Motown" (hence its infamous record label). As well as motor vehicles, the city's main industries have historically included steel, pharmaceuticals, food processing, machine tools, tyres and paint. Whilst by the 1920's, most American automobile manufacturers had headquartered here, the city saw a turning point in its fortunes; the 1967 riots are seen as the beginning of this, although its decline began in the 1950's when the city lost almost ten percent of its population. In more recent years, further decline occurred due to industrial decline starting around 1980 throughout the so-called "Rust Belt". The list of notable people from the Detroit area is seemingly endless, whether it be Henry Ford, musicians ranging from classic Motown artists to Kid Rock to Eminem, notable people from politics and so on (Wikipedia page Here). At the time of writing, the city's population stood at around 700,000 (Urban: 3.7 million, Metro: 4.3 million, Combined Statistical Area: 5.3 million).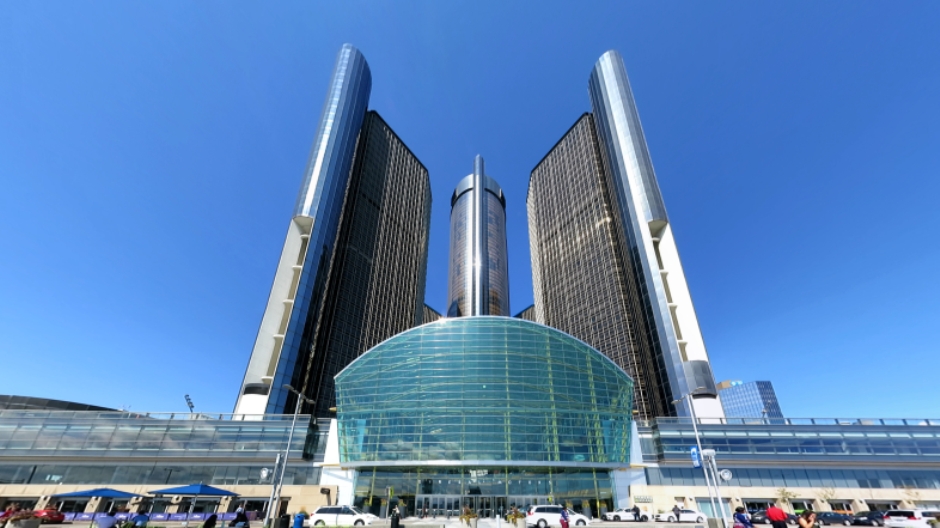 Above: Panoramic stitch of the Renaissance Center (also known as the GM Renaissance Center and nicknamed the Ren Cen), a group of seven interconnected skyscrapers in Downtown Detroit.
Shown in the thumbnail gallery below are photographs taken during a visit to Detroit in September, 2018 (click on an image to enlarge). In Brief, shown are the following: A visit to Woodlawn Cemetery (between 7 Mile Road and 8 Mile Road) to see the burial site of Queen of Soul Aretha Louise Franklin (March 25, 1942 - August 16, 2018) whom had sadly passed away the previous month, a walk around downtown Detroit starting off at Ren Cen Plaza and Detroit Riverwalk (note the views of Windsor in the Canadian province of Ontario across the Detroit River), a brief look at Midtown Detroit (amongst many other institutes, home of several museums including the Michigan Science Center and the Charles H. Wright Museum of African American History), a look north and east of downtown to look at some abandoned properties (including the Packard Automotive Plant on East Grand Boulevard, which at the time of writing according to Wikipedia is "a haven for graffiti artists, urban explorers, paintballers and auto scrappers"), a look at the Giant Cow Head which became famous after it was shot with a pink paintball in Eminem's 2002 pseudo-biopic, 8 Mile (actually located at 13099 Mack Avenue), a visit to Belle Isle (an island park in the Detroit River, connected to mainland Detroit by the MacArthur Bridge), the suburb of Dearborn (8 miles/13km west of Detroit and home to the Henry Ford Museum, Ford Rouge Factory Tour and the historic open-air Greenfield Village), and finally, a look at a firearms dealer and shooting range (Accurate Firearms and Accurate Range) in Clarkston, Michigan, located approximately 40 miles (approx. 65km) northwest by north of downtown Detroit.
Despite downturns in industry over more recent years, the automobile industry in Detroit is still very much alive. The downtown area is revitalised with the focal point being the Renaissance Center, GM's current headquarters. The nearby Hart Plaza hosts riverfront festivals and these are several modern sculptures dotted around, including "Big Fist" – a tribute to local African-American boxer Joe Louis ("The Brown Bomber"). Just north of downtown are Comerica Park and Ford Field, two famous sporting venues. Aside from those already mentioned, other attractions for visitors to the city include the Detroit Institute of Arts, Detroit Historical Museum and the Motown Historical Museum.
Back to Top