Bologna is a city in North-Central Italy at the foot of the Apennines. It is the capital of Bologna and Emilia-Romagna province. It was originally an Etruscan town (Felsina) until it was colonised by the Romans in the 1nd century BC. Bologna has an 11th century university - the world's oldest, the unfinished Church of San Petronio (1390), and the Palazzo Comunale (13th, 15th and 16th centuries). Whilst tourism is playing an increasing role on the local economy, industries include mechanical and electrical engineering and food processing. Served by the Guglielmo Marconi International Airport, Bologna has an urban population of just over 390,000 and just over one million people living in the metropolitan area.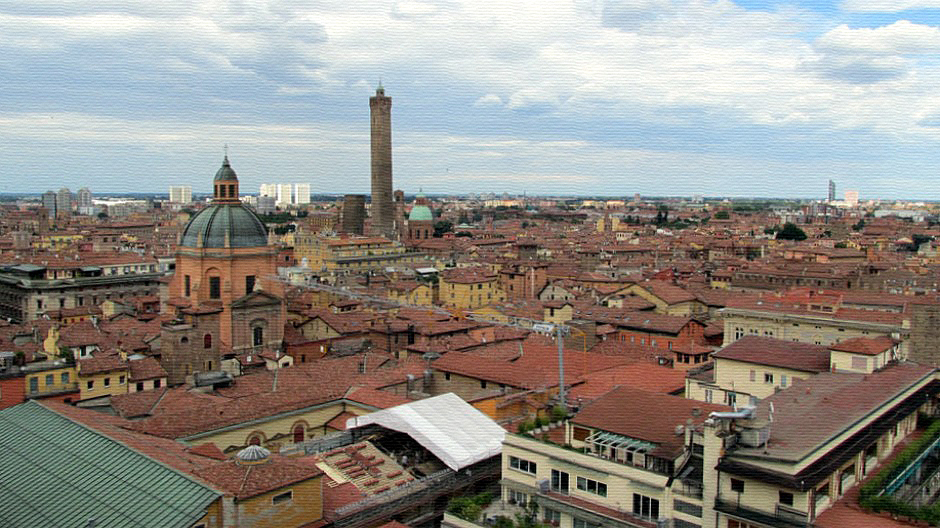 With a vibrant student population, fine restaurants, piazzas and set in a beautifully colonnaded medieval grid, the city is a pleasure to explore. Not-to-be-missed sights here include Archiginnasio of Bologna (a Library and anatomical theatre located inside a 16th-century building), Piazza Maggiore (the city's main square, lined with Medieval and Renaissance buildings), the San Petronio Basilica (a vast Gothic basilica with an unfinished brick and marble façade), the 16th-century Fountain of Neptune, Santo Stefano (a complex of religious buildings dating from the 8th century), Palazzo d'Accursio (a Town hall complex dating from the 14th century), the 13th century Palazzo del Podestà, the Basilica of San Domenico, Palazzo Re Enzo and Bologna Cathedral (a Catholic church restored in the 17th & 18th centuries with a tall bell tower). There are many other places of interest to see here including other religious buildings and plenty of museums. Like any similar destination, it is a matter of the visitor's personal interest and time available. Possibly one of the pleasures of walking around at the time of the visit was the relatively low number of tourist crowds, more evident than ever before in more popular destinations, such as Florence. The photos in the thumbnail galley below were taken during a visit in the summer of 2018. Following the gallery is a little text about the Sanctuary of the Madonna di San Luca, which is located on a hill just outside the city centre. Click on any image to enlarge:
Sanctuary of the Madonna di San Luca
The Sanctuary of the Madonna of San Luca is a basilica church sited atop a forested hill (Colle or Monte della Guardia) just south west of the city centre. This baroque-style Roman Catholic sanctuary church is dedicated to the Virgin Mary and is some 300 metres above the city plain. From 1931 to 1976, it was possible to access the church via a cable car, although this service was discontinued due to increased use of private vehicles; a road now leads up to the sanctuary.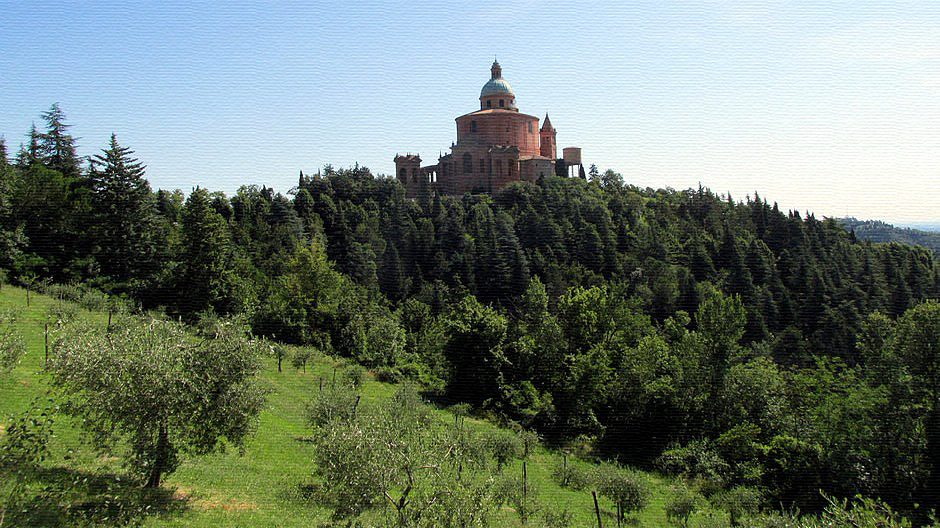 A church or chapel has been on top of the hill for some one thousand years, or so. According to traditional beliefs, a pilgrim from the Byzantine empire came to Bologna in the 12th-century with an icon of the Virgin from the temple of Saint Sofia in Constantinople. In 1160, the bishop of Bologna assigned the icon to a small hermitage-chapel atop the hill that was tended by two holy women, Azzolina and Beatrice Guezi. From 1193, the building of a church at the site commenced and in 1294, some monks of the Dominican order from the monastery of Ronzano arrived and this order remained until the Napoleonic suppression of 1799. The church seen today was built in 1723. The building is centrally planned with a cupola on top. Inside the sanctuary are a number of painted artworks of note, alongside stucco works and statues. Possibly one of the most striking features of the Sanctuary of the Madonna di San Lucais is its portico (built 1674-1793). Designed to protect the icon as it was paraded up the hill from the city to the basilica, the portico is an impressive 3.8km long roofed arcade consisting of 666 arches. For those fit enough and with the time, it is possible to walk the entire length of this all of the way up the hill to the basilica. Each year, a procession takes place from the Cathedral of San Pietro in the city centre, along this route, terminating at the sanctuary. Whether walking or driving up to the sanctuary, where it is also possible to also take steps to the base of the cupola, a reward certainly comes in the form of views over the city and surrounding countryside. Further photographs of the Sanctuary of the Madonna di San Luca may be seen in the thumbnail gallery below (click on any image to enlarge):
Back to Top