The photos on this webpage are from a recent MOC (My Own Creation) idea for a LEGO model, built using the free Lego Digital Designer software. The idea was submitted to Lego Ideas and the text submitted alongside the entry follows: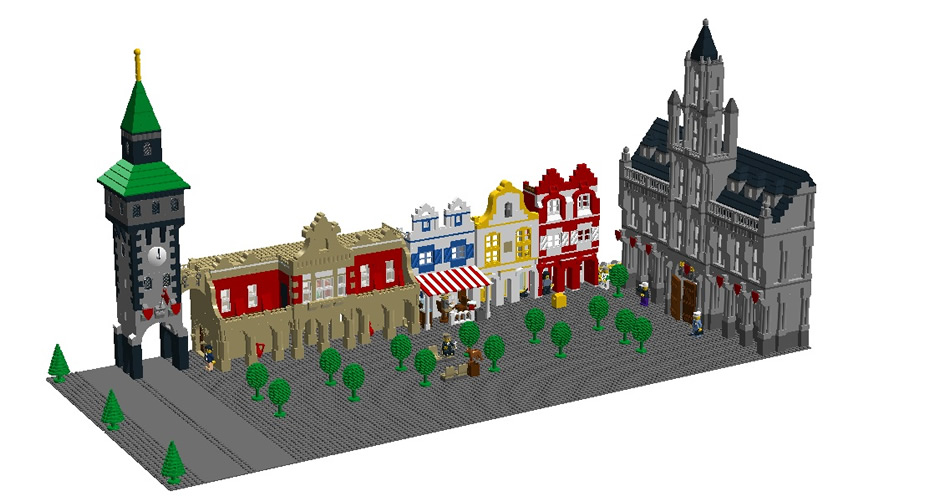 A true compromise between LEGO CITY sets and LEGO CREATOR sets for all to enjoy. This set includes: The Medieval Clock Tower, the Renaissance Market Hall, A row of three historical buildings (including a café) with colourful façades, and a grand Gothic Town Hall.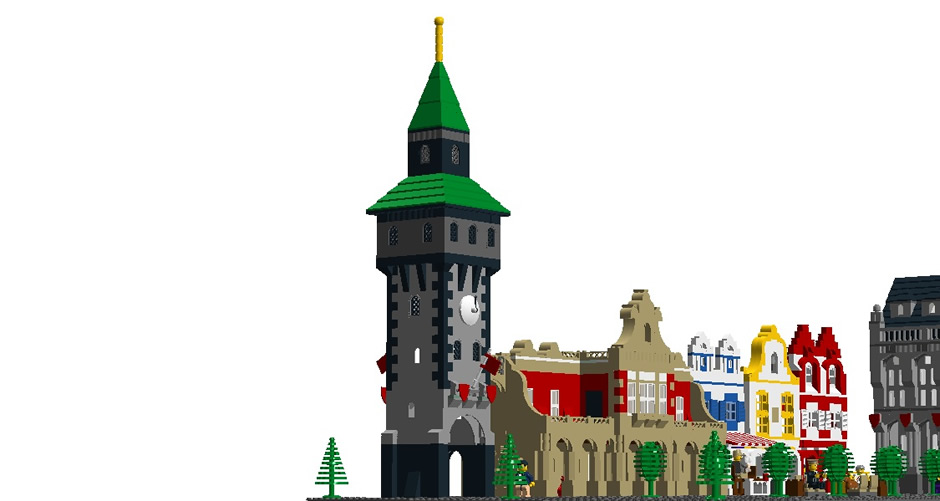 It is a given fact that these models are more "basic" in form than many of the those seen today from LEGO (such as the CREATOR models) and the many fantastic MOC ("My Own Creation") models by (often adult) enthusiasts, but I feel this set is entirely justified as a LEGO IDEAS set for the following reasons...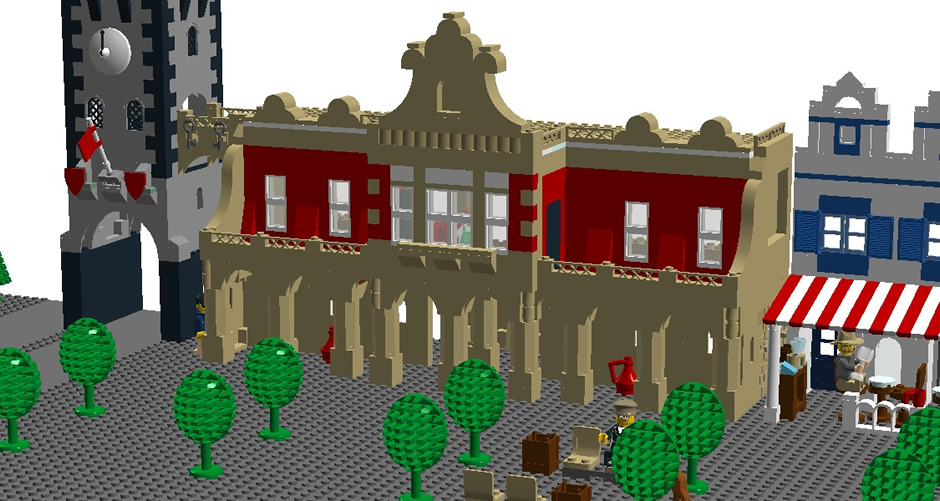 Casting my mind back to the Legoland sets of the 1980's, I loved to buy different town sets with, I must stress, baseplates, particularly road plates. As I built my town up, there was not only the enjoyment of building them, but there would be a major element of "PLAY WITH" which would follow… my imagination running wild as I would make up various scenarios and storylines as the minifigures interacted with each other and their built environment. Today, it seems, much of this has been lost with hyper-realistic models which look nice enough, but appear more like showpieces for display. The simpler CITY sets today (such as the police station), whilst encouraging the "PLAY WITH" element, are somewhat lacking in architectural imagination.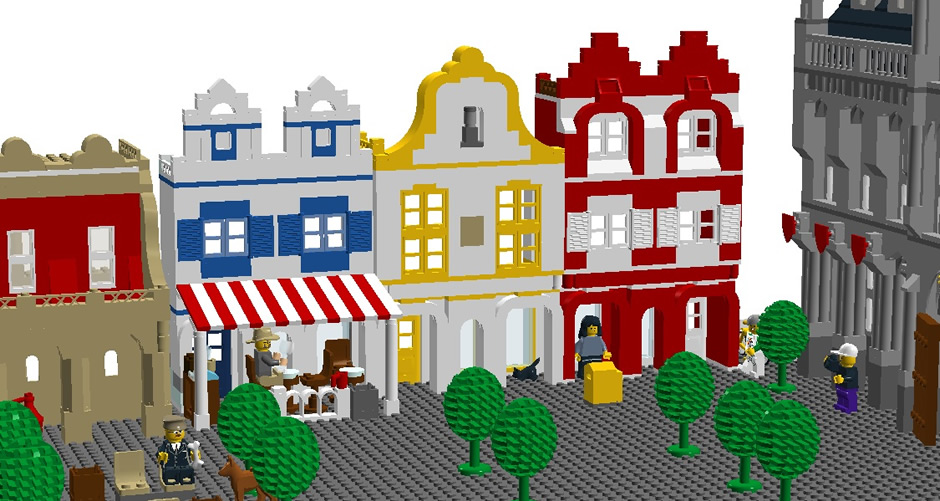 The LEGO Old Town Square Playset shown here, encourages not only the "PLAY WITH" element, but is also modular, in-part, so it can be rearranged to suit different table space and/or if combining with other models in a layout. The parts inventory in this set provides an excellent selection of bricks to build with. It encourages the LEGO builder not only to actively experiment with new variants of the models, but also to follow through with their own ideas for MOCs, without the extra confusion created by limited and sometimes specialist parts which may seem confusing to the younger child or the less experienced enthusiast.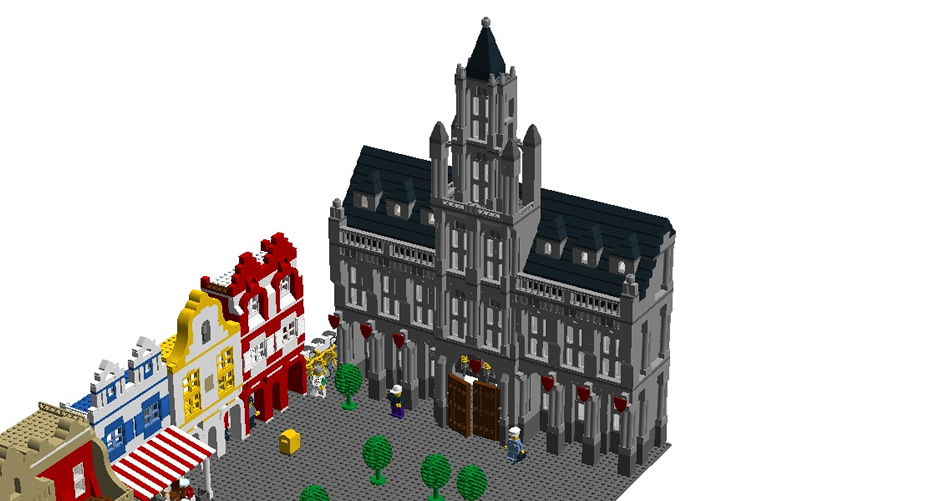 This set includes eight minifigures, including a police officer, a tourist, and a rather suspicions-looking character (standing around the corner of the Market Hall). The various buildings seen here provide much space inside and out to play with the included minifigures and also any others that the LEGO collector may have (perhaps there may be a Star Wars convention going on inside the Market Hall!). The LEGO Old Town Square Playset also provides much, perhaps welcomed, space to put any LEGO vehicles which may already be owned or subsequently bought, but lack a built-environment / scene in which to place them.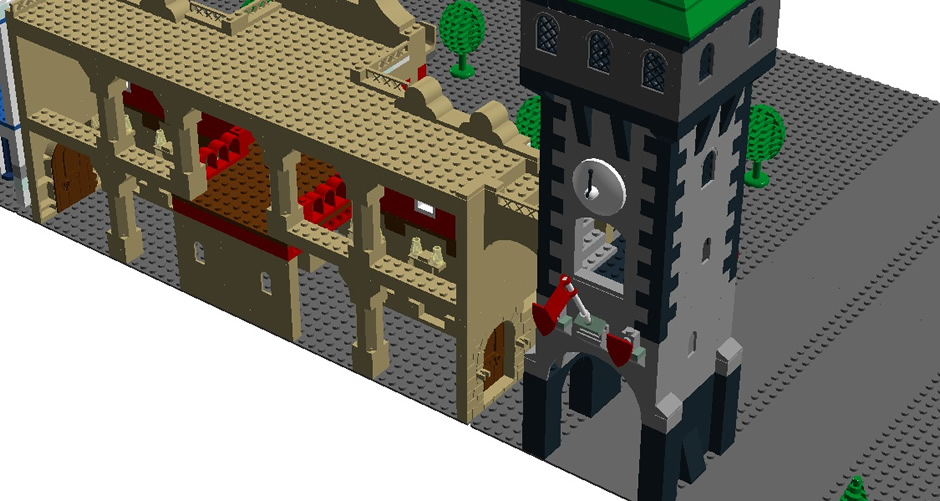 I feel the CREATOR sets may be excellent for those looking for something more for show, but due to their complexity, they can be beyond the skill-level of the less experienced builder and with the LEGO Old Town Square Playset, whilst creating a "smooth finish" to the buildings, there has been no real desire to produce something which isn't immediately identifiable as LEGO. A more realistic model, where no studs are visible, may be excellent for displaying, but takes away the traditional aesthetic and appeal which one may experience when seeing at first glance that the creation is made of LEGO!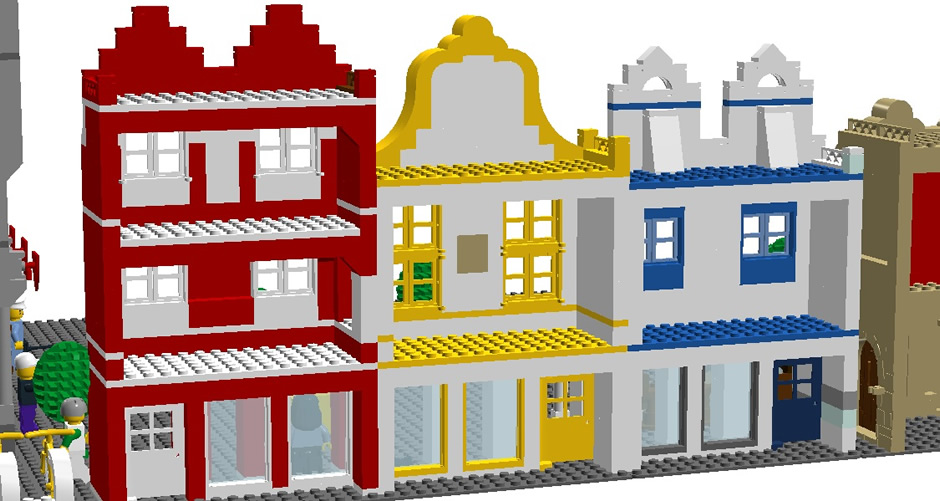 My solution presented here, encourages building in different historical architectural styles which appear more attractive than the old basic Legoland town sets of the 1980's and some of their equivalents on the market today. In this set are presented varying levels of "expertise" required to construct the models; the aim here being to engage not only children of different ages to be involved with the building, but also the "adult-enthusiast"; the younger or less experienced LEGO builder may find the colourful smaller constructions exciting to build, whilst the more experienced LEGO builder may find the Gothic Town Hall more of a challenge.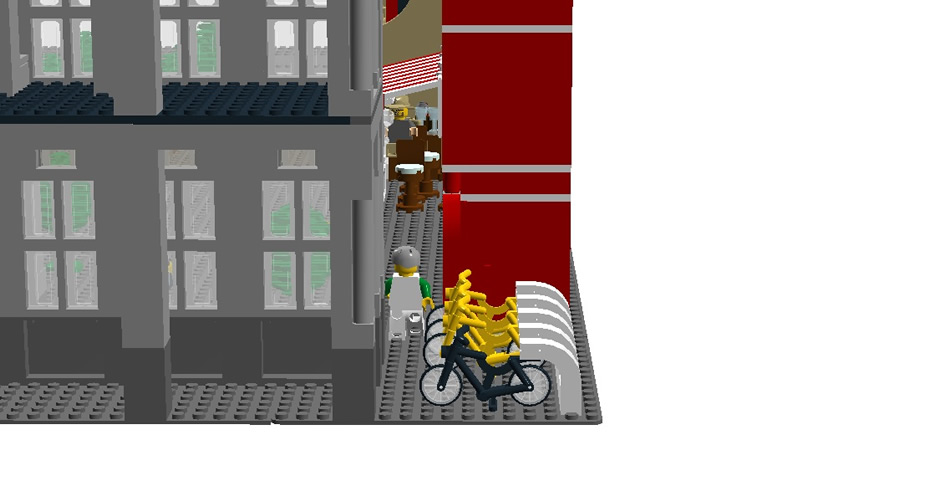 I also believe that the old town square scene here is conducive to inviting youngsters of all ages in to play with it and act out scenes / make up storylines, without the fear of damaging a model which has been built simply for "show". Furthermore, unlike the Legoland town sets of the earlier days and their modern equivalents, this set hopefully encourages the child to think about different architectural elements and styles, whether it be Neo-Gothic or Medieval. Models in this set were loosely inspired by buildings still seen today in the old town squares of Prague (Czechia), Krakow (Poland) and Brussels (Belgium). No religious buildings have been included solely because I feel LEGO should be non-religious, non-political and all that.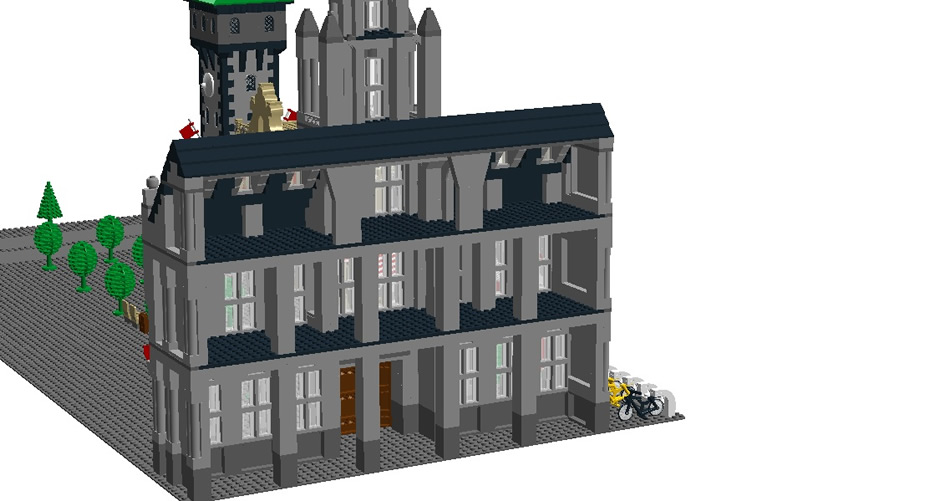 I believe, also, that the buildings presented in this set also form a system of play that can be easily added to with further road plates leading to the likes of the modern police station, and fire station, and where the child may discover that perhaps, architecturally speaking, with some of the other CITY models available these days, and reflecting on real-life buildings throughout the times, that rather than agreeing with famous architect Ludwig Mies van der Rohe that "Less is more", they will appreciate the meaning of the more recent term that "less is a bore".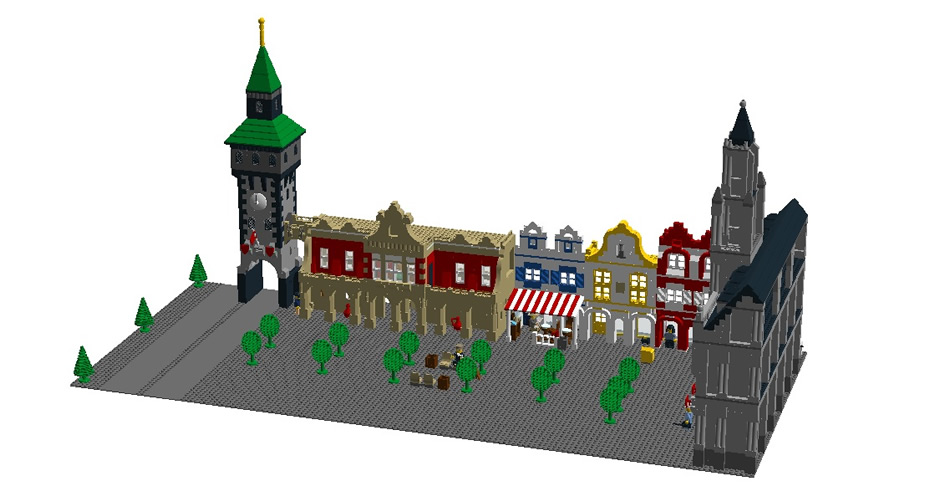 The LEGO Old Town Square Playset could also be accompanied by some smaller new sets to enhance play, such as a traditional horse and cart being used to take tourists around, a wedding party, interior accessories for a library, a hotel, or an indoor-market, and so forth. Perhaps people could think of their own street furniture and/or structural additions once they have completed this beautiful set… a fountain for the centre of the square, or perhaps a statue dedicated to Ole Kirk Christiansen (1891 – 1958), founder of the LEGO Group.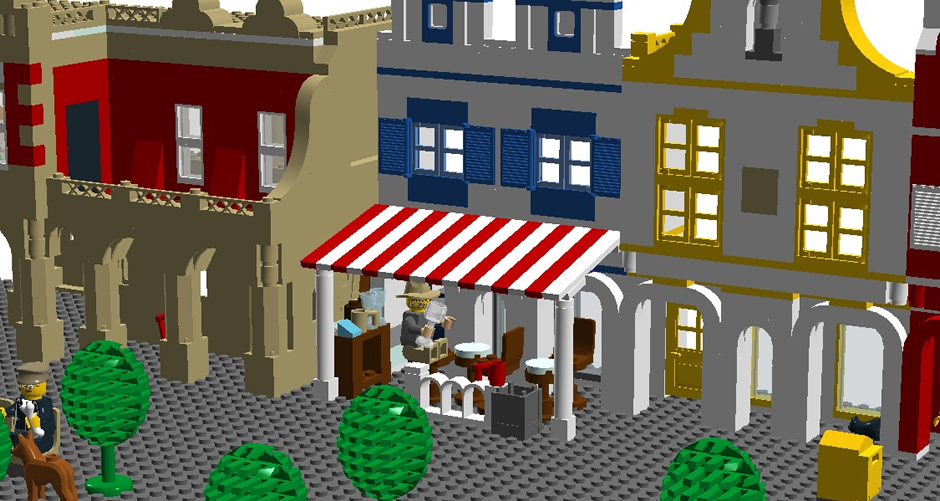 It is true that a number of themed-sets may go in and out of fashion, but this set is sure to be a timeless classic which can be enjoyed by all, both with building and with play, for generations to come.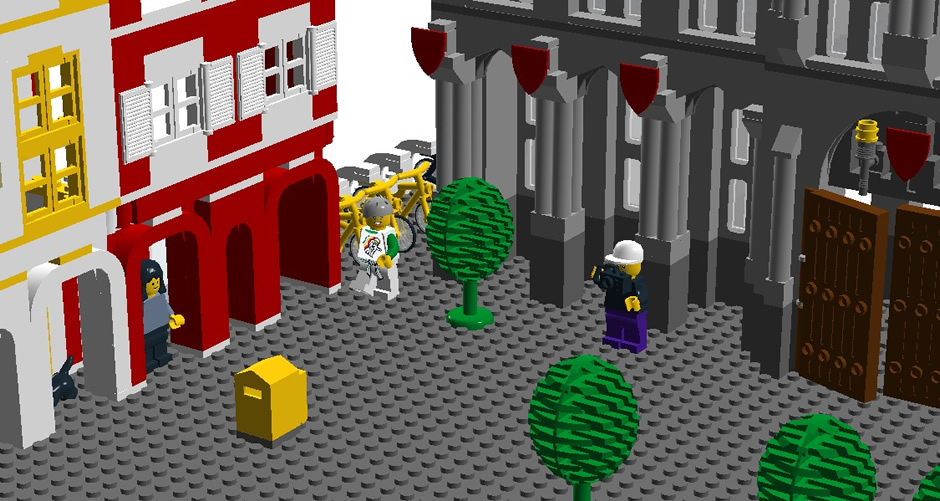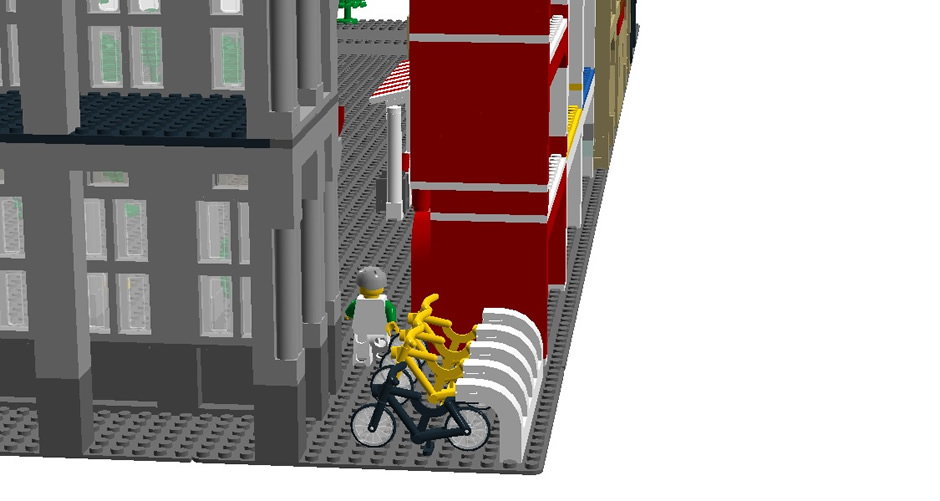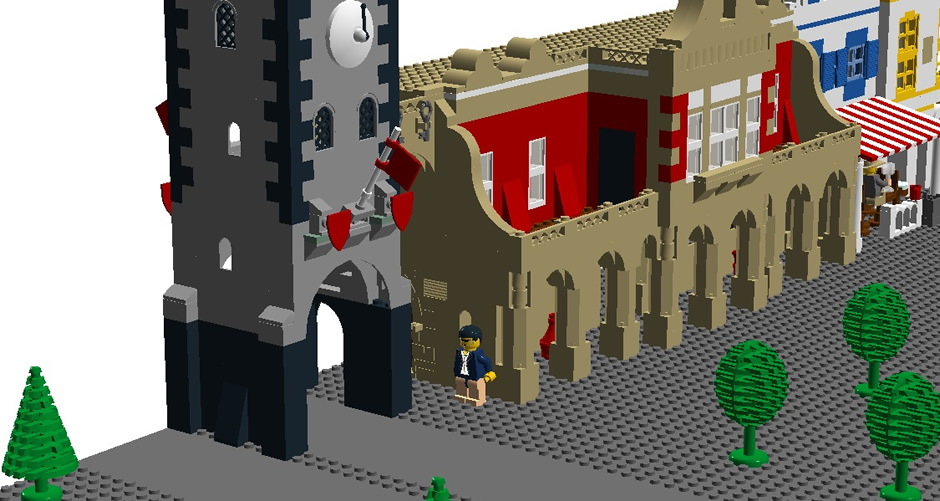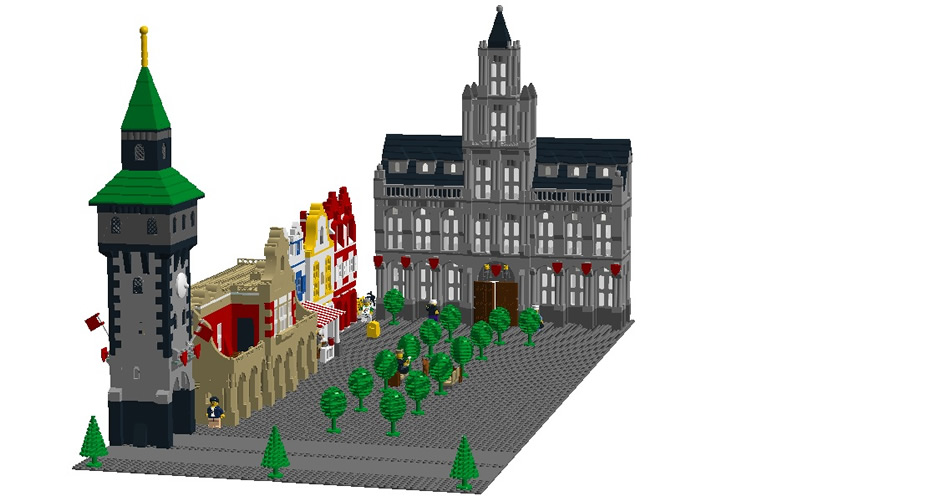 Note that the model design shown here, in its entirety or in part, is copyrighted and therefore no permission is granted to reproduce it for commercial or any other purposes(s). This MOC set contains 2999 pieces, and therefore falls only just below the maximum number of 3000 pieces for LEGO IDEAS.
Lego is a Registered Trademark of The LEGO Group, which does not sponsor, authorize, or endorse this webpage.
Back to Top