Many people who have explored Great Britain, particularly on foot and with the aid of an Ordnance Survey map, will be familiar with the triangulation pillars (also known as "trig pillars" or "trig points"). These white concrete pillars were used by the Ordnance Survey national mapping agency as accurate fixed points for mapping coordinates within the National Grid. They date back to as long ago as 1936 and there were once about 6,500 of them dotted around the landscape in prominent places. Although modern survey techniques have now rendered them effectively redundant, about 6,000 of them still remain.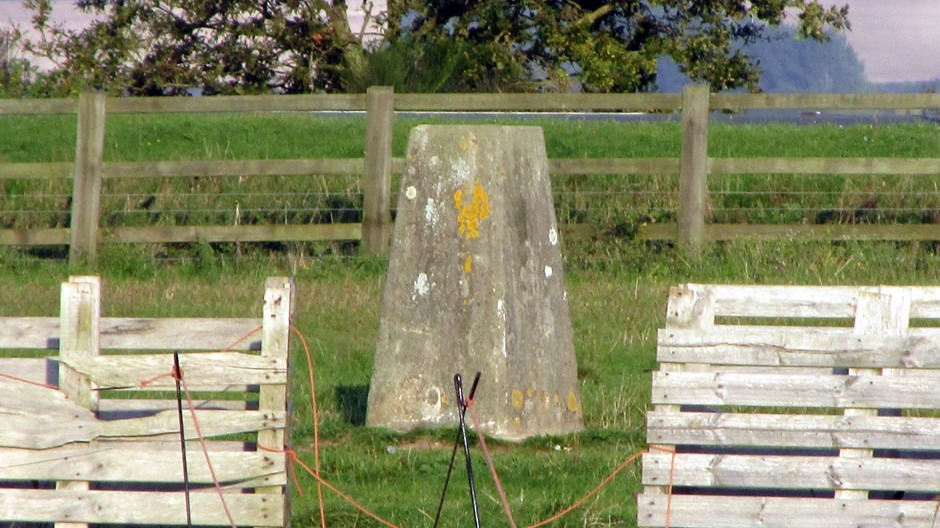 Above: Looking somewhat unmaintained, and near the site of an old farm shop, a triangulation pillar (trig point) in Norfolk, east of England (TP2039, FB #S7542, Lat. 52.78, Long. 0.41, Height 51m)
A lesser known fact, and perhaps a lot less conspicuous (as well as much more numerous) than the trig points are another set of reference markers once used by the Ordnance Survey – benchmarks. While trig pillars were used as fixed points for mapping coordinates in the National Grid, benchmarks were used as fixed points for calculating a height above the mean sea level. The benchmarks in Great Britain date back far longer than the trig pillar – as early as the first half of the 19th century. They comprise horizontal marks which were used to support a stable "bench" for a levelling stave to rest on. Surveyors made and used these marks to record height above Ordnance Datum Newlyn (ODN – mean sea level determined at Newlyn in Cornwall). If the exact elevation of one benchmark was known, the precise height of the next one could be found by measuring the difference in heights, through a process of spirit levelling.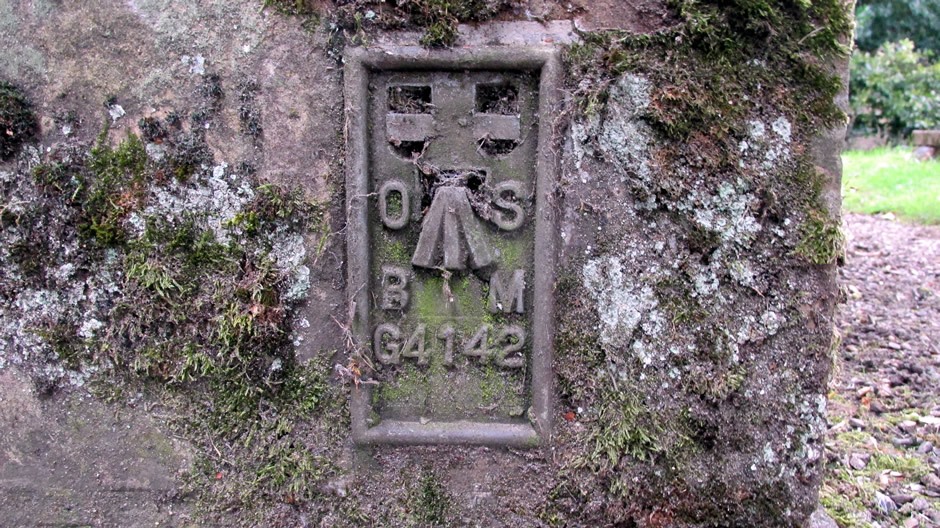 Above: One type of benchmark is the flush bracket (see lower down for an explanation), here found on the side of a church.
The images on this webpage were taken in September, 2020, and show some examples of benchmarks which were located and photographed purely out of curiosity and as an illustration to show the interested reader the sort of thing to look out for whilst out and about. They come in a variety of forms, and these include the flush bracket (set "flush" into walls and buildings and used for the more important level control points, they are also found on most, but not all, trig pillars), the projecting bracket, the cut bench mark, the osbm bolt, cut bench mark with bolt, and also rivets or pivots.
The photos below show an example of a flush bracket, as found on the side of the old Post Office Building in King's Lynn, Norfolk (OS Grid Reference: TF 6194 1999, Waypoint: FG4146). As can be seen here, looking at the building, and then the flush bracket, they aren't always easy to spot, unless you are specifically looking for it: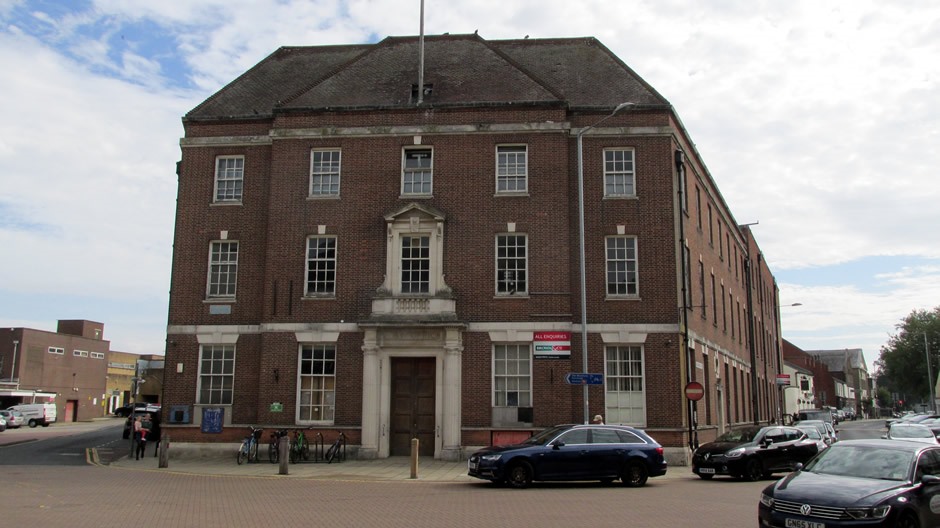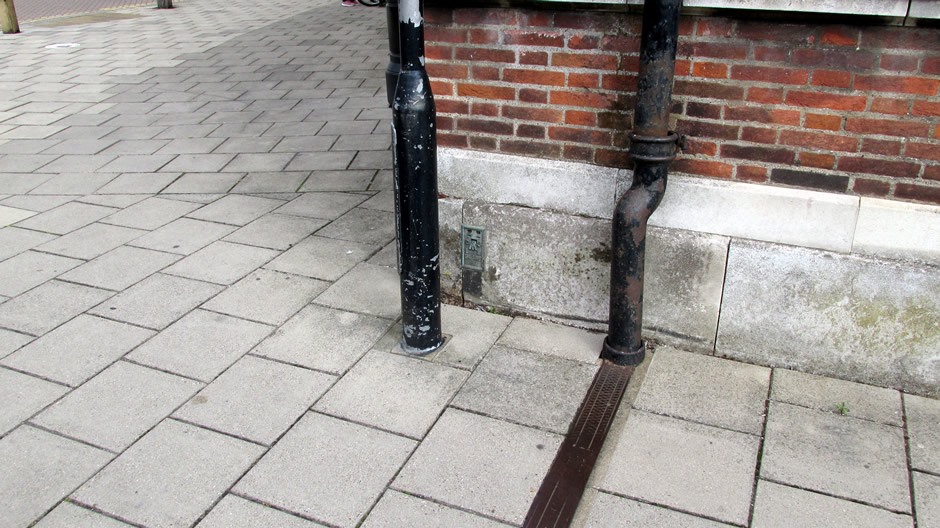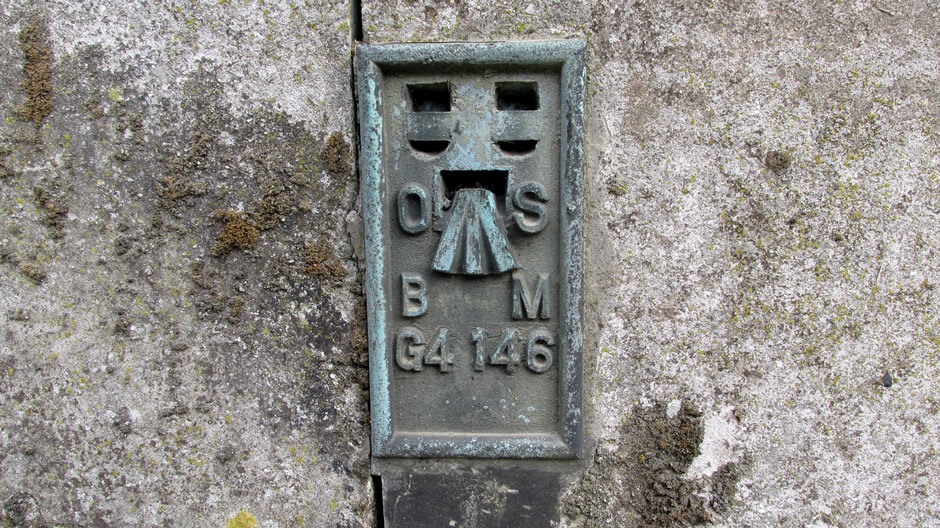 The next photos, below, show three different cut benchmarks spotted in northwest Norfolk (wider camera shots, followed by benchmark detail). There are hundreds of thousands of these located throughout Great Britain. They can typically be seen cut into houses, churches, bridges and many other structures. Many are clustered in cities, and there aren't as many in the more rural and hillier parts of Britain. As these benchmarks are no longer used by the Ordnance Survey, the 500,000+ which were originally created have seen a decline in number, as buildings are demolished, roads built, walls replaced and so forth. Not all are easy to spot, and further information on locating them may be found via the references at the bottom of this webpage: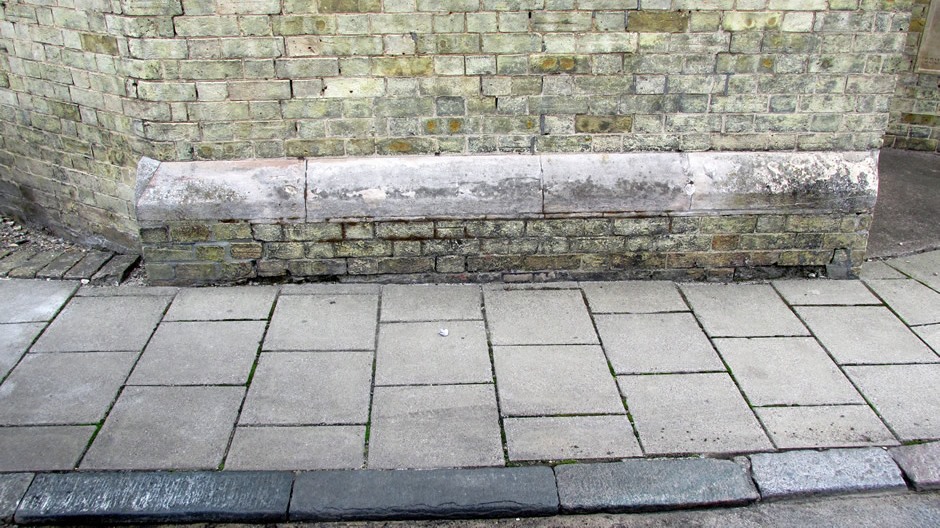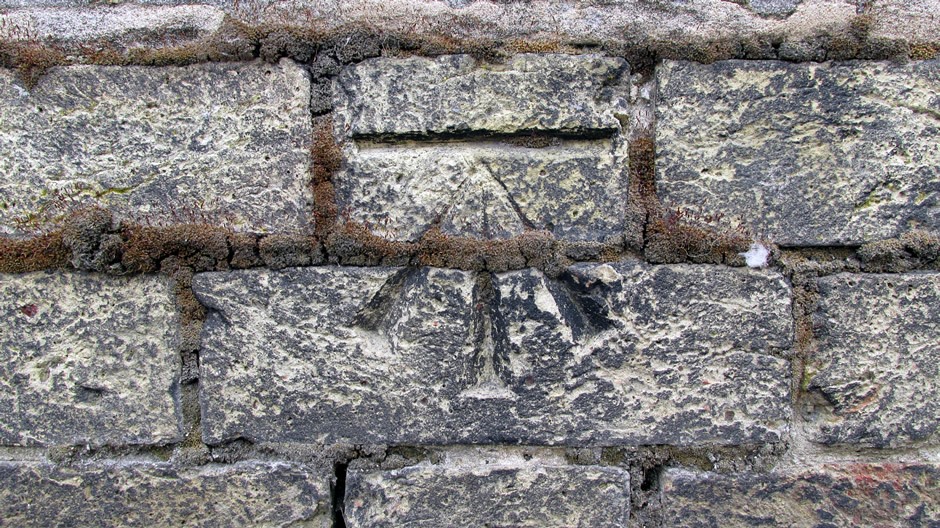 ***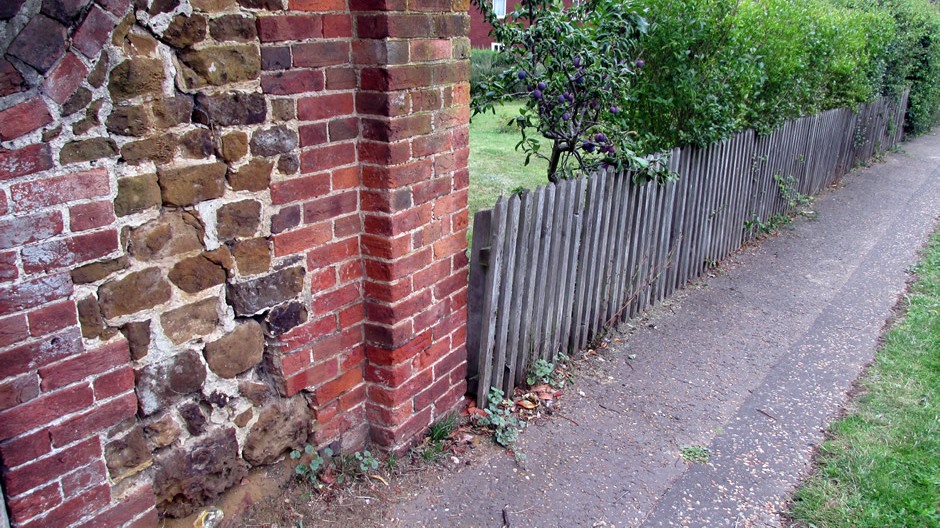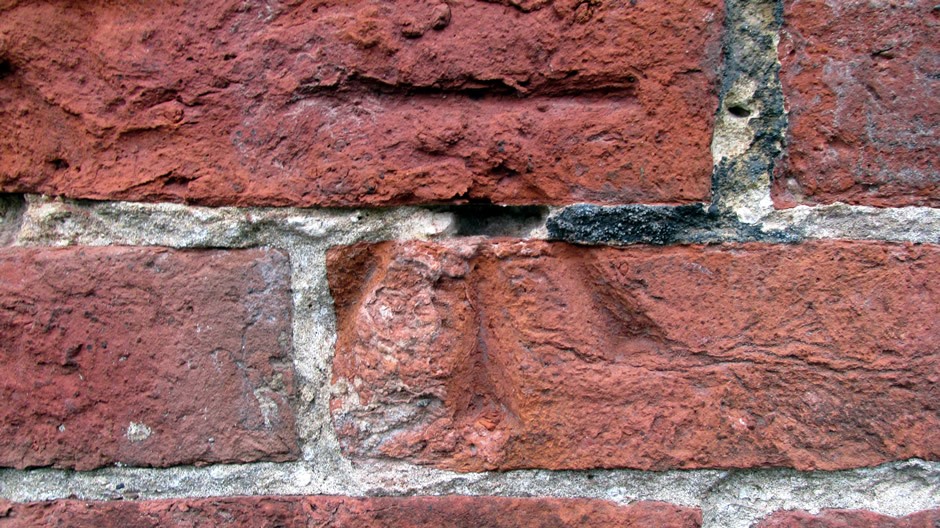 ***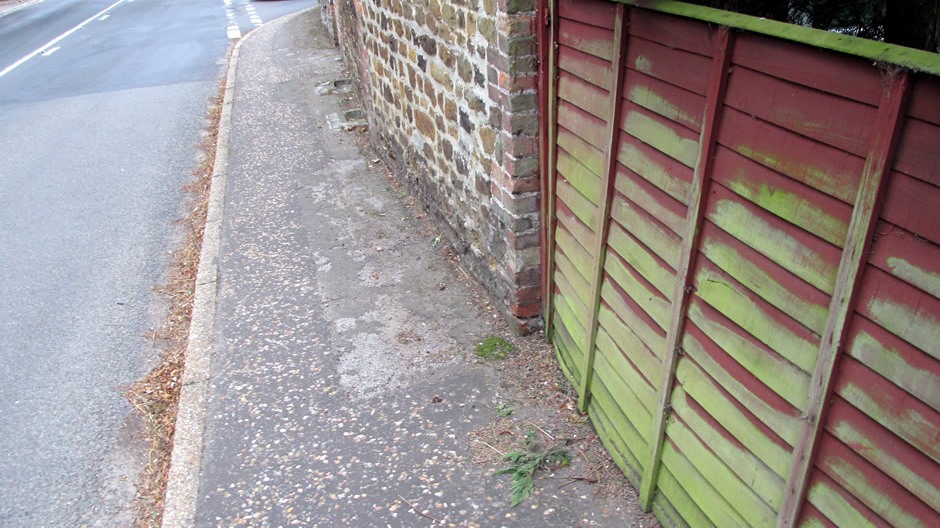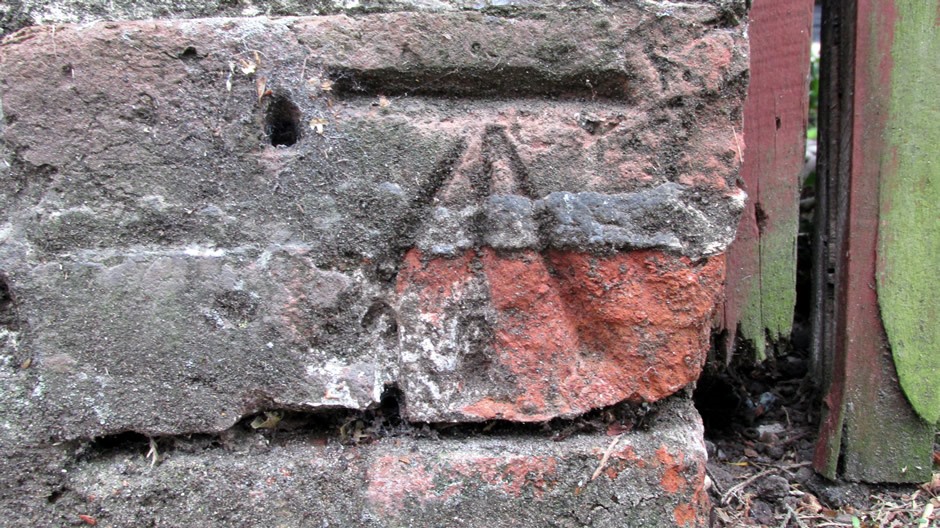 On a final note, one of the less common sights to be seen around Great Britain is the fundamental benchmark. There are around 190 of these high-accuracy benchmarks and these are still maintained and used by the Ordnance Survey. Linked with the Ordnance Datum at Newlyn, they form the primary height survey network. Fundamental benchmark pillars are about one foot in height and include an underground chamber containing the precise reference marks for the point; today, height is determined through the Ordnance Survey Net permanent GPS stations, which as the name suggests, use accurate Global Position System receivers to aid measurement.
References and Further Information
As well as sources from Ordnance Survey, there are a number of websites from hobbyists/fans of trig points and benchmarks. Geolocating trig pillars, or "trigpointing" has been a hobby for some, as well as people who have an interest in spotting benchmarks (known as "benchmarking"). The following links provide further information on trig pillars and benchmarks, and where to find them, for the reader who is interested in going out-and-about and discovering these survey markers for themselves:
1. "Benchmark or trig pillar: what's in a name?" – Blog post from Ordnance Survey (21 Sep 2017). Link Here
2. "25 years since the last OS benchmark" – Blog post from Ordnance Survey (01 May 2018). Link Here
3. "The trig pillars that helped map Great Britain" – BBC News In Pictures. Link Here
4. Trig Pillar Map from trigbagging.co.uk. Link Here
5. Benchmark Locator (Ordnance Survey). Link Here
6. Benchmark Database – A very useful resource and a place where "benchmarking" hobbyists can log their findings from the field. Link Here
7. A list of Fundamental Benchmarks on trigtools.co.uk may be found on the link Here
Back to Top