Marble Arch Mound (9th August, 2021)
The photographs on this webpage are taken from a visit to the Marble Arch Mound, a temporary installation in central London, England, commissioned by Westminster City Council. It was opened to the public in the Summer of 2021. The idea of the mound came about in an effort to boost domestic tourism and help with the return of shoppers to Oxford Street, post Covid-19 lockdown. The visit featured on this webpage took place on 9th August (2021), during a month when entry tickets were on offer free-of charge to the public.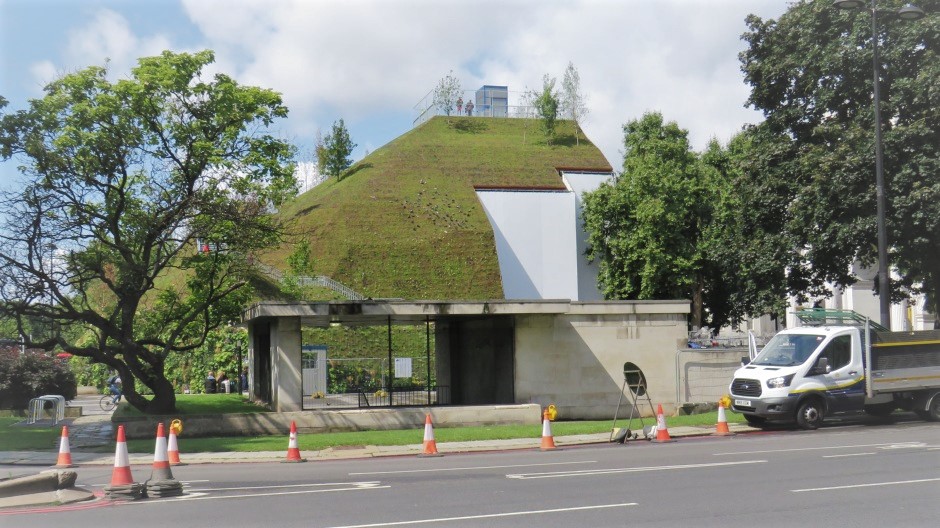 Above: Marble Arch Mound as seen from Park Lane side
An 82-foot (25m) high artificial hill, the Marble Arch Mound (or Marble Arch Hill) was constructed on a traffic island next to Marble Arch, in the north-east corner of Hyde Park. The hill opened to the paying public on 26 July, but was briefly closed shortly afterwards after complaints from the first visitors that it did not meet expectations drawn from the claims made in its promotional material, and also that some viewing was obscured by trees. The hill reopened on 9 August (the day of this visit), and at the time of writing, it was expected to remain on the site until January 2022.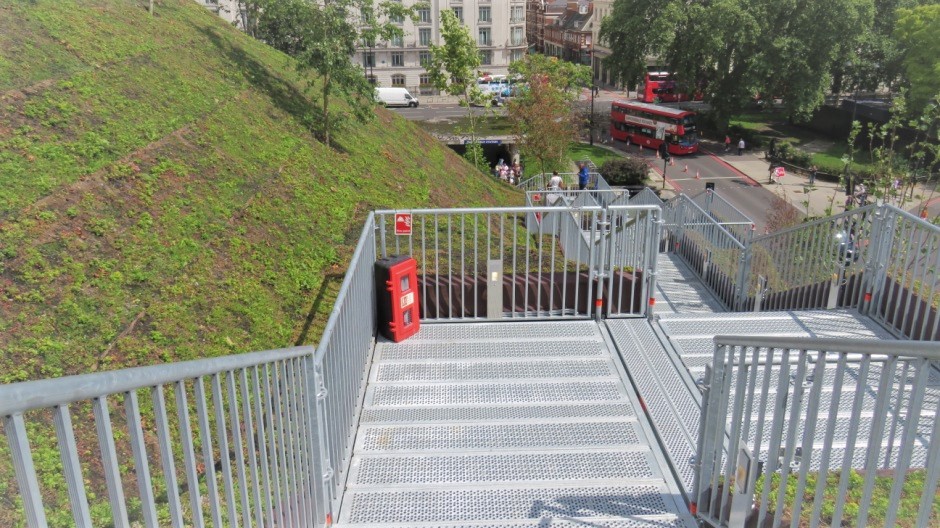 Above: Steps leading up the side of Marble Arch Mound
The concept of Marble Arch Mound was to bring a "renewed excitement about the area" and manifest "the council's vision of a Greener, Smarter, Future, Together". Designed by the Rotterdam-based architectural firm MVRDV, the mound was built from scaffolding covered with sedum turf and a number of trees and a variety of plants. In the design, visitors are required to stay on metal walkways and climb 130 steps (or take a lift) to reach the observation platform at the top. The forecast cost of the mound was £3.3 million, but at the time of writing, this had increased to an amount more like £6 million.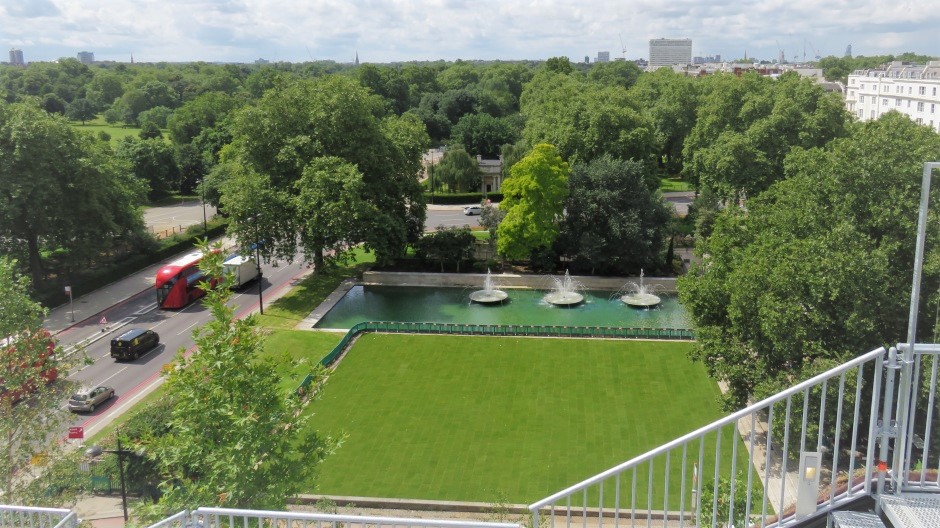 Above: View from atop the Marble Arch Mound looking west-south-west, showing mainly trees in Hyde Park
Whist to the author of this webpage, the idea of the Marble Arch Mound seems like a great idea in principle, it was not difficult to see why the paying-public were not happy with their visits on its opening. For starters, at the time of this visit, it was still not completed. The official website states that "Visitors will climb to the 25-metre peak via a path that winds its way up to the summit", and this was correct, as were the offers of a 360° view, but the claim that the view is one of looking "down Oxford Street" seemed very misleading in the fact that the view point is not in line with the end of Oxford Street and therefore not possible to see down this thoroughfare, and also the observation platform is not high enough to tower above any of the rooftops along the said road. At the time of this visit, the website also stated that "On their way down, visitors will descend into the heart of the Mound, a hollowed-out space that will be used as an exhibition space"; the top of the staircase leading into the heart of the mound was taped off, as it was leading down into an active construction site. So, at the time of the visit, no planned exhibition, shop, nor café. In fact, the viewing area at the top of the mound sometimes felt a little less than solid, and vibrations could be felt from workers beneath. The walk back down from the mound thus involved retracing steps taken to ascend the mound on its exterior. That all said, as a "freebie", it was well worth visiting and the views over Hyde Park (mainly of trees) were pleasant enough, revealing the greener sides of the centre of London. Being on a clear day, also visible (not in their entirety) were London landmarks such as the London Eye, The Shard, The BT Tower, and Battersea Power Station. In defence of the project, one can only speculate that upon its eventual completion, any future reviews might shed a more positive light on it.
Further photographs taken from this visit to the Marble Arch Mound are shown in the thumbnail gallery below (click on an image to enlarge). As well as views of and from the mound, shown here are photos of Marble Arch itself, some 'sneaky' shots of the mound's interior at the time of the visit, and a Banksy-style work of art adjacent to its base (suspected/unconfirmed Banksy):
References and Further Reading
1. "Visit Marble Arch Mound" – Information, Tickets, etc. on City of Westminster/Oxford Street District Website Here
2. "Marble Arch Mound" on Wikipedia Here
3. "Marble Arch Mound reopens to new visitors as changes are being made to site" – Evening Standard, 09 August 2021. Link Here
4. "Suspected Banksy on Marble Arch wall put in protective casing" – Article on BBC News Website Here
Back to Top