Rock / Pop Walking Tour of London, August 2021
It goes without saying that there is a seemingly endless number of things to see and do in London, and sometimes it can be fun to explore on foot some of the sights, whilst choosing a particular theme. One such previous visit involved visiting the 22 'Properties' and 4 railway stations featured on the traditional British Monopoly Board, which is centred around the nation's capital.
Here, a visit was made to London, to see some of the central sites, as seen today, which have previously played a part in the city's influence on Rock and Popular Music. Of course, there are various 'hang-outs', pubs and clubs where various artists and bands have been concerned, whether it is part of their history through their social life of the day, or where they may have performed in their early days; here, a small selection was made for an independent walking tour roughly based on some of the many specialised organised tours which can be booked. As well as looking at these tours, some emphasis was also put on the round plaques which dot the nation and are placed on buildings to mark locations of historic interest.
After identifying the locations to be visited, an optimal walking route was chosen by way of asking Google Maps for directions and copies of the resulting maps are shown at the bottom of this webpage. Photographs of the sites visited, accompanied by brief descriptions follow: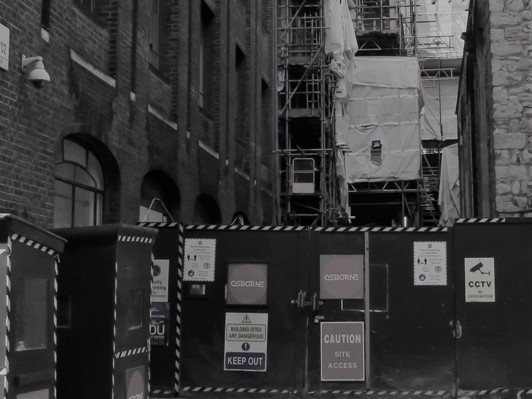 Above: Savoy Steps, location of Bob Dylan's video for "Subterranean Homesick Blues". This small alleyway is close to the Savoy Hotel. At the time of the visit the site was undergoing construction works (as it was at the time Dylan's video was shot in 1965).
Above: Original location of the 2i's Coffee Bar, considered birthplace of British Rock 'n Roll and popular (pop) music. The first band to play here were The Vipers in 1956, and this is also the venue where Tommy Steele was discovered.
Above: The site of Marquee Club from 1964 to 1988, at 90 Wardour Street, welcomed artists such as David Bowie, The Rolling Stones, Pink Floyd, Led Zeppelin, The Who, Yes, Jethro Tull, the Jimi Hendrix Experience, and The Yardbirds. Peter Green's Fleetwood Mac gave their first performance here in 1967. Above the entrance, a Blue Plaque marks the fact that Keith Moon of The Who performed here.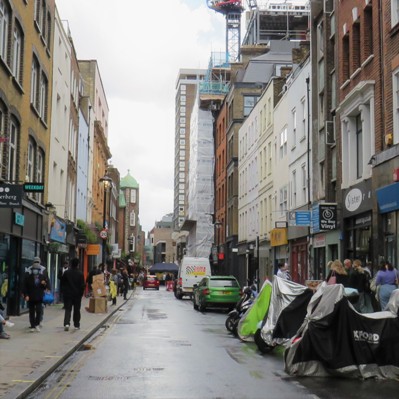 Above: A view of Berwick Street, location of the photo on the album cover of Oasis' album '(What's the Story) Morning Glory?'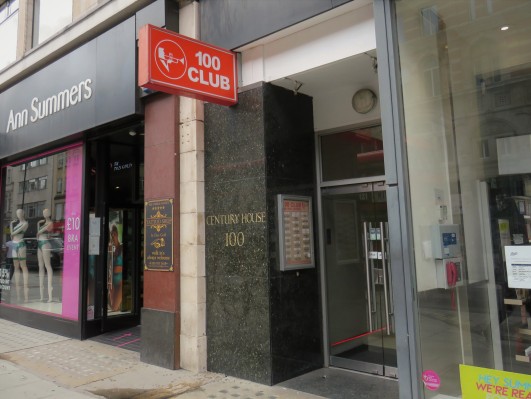 Above: The 100 Club on Oxford Street. Acts as diverse as Louis Armstrong, The Clash and Blur have appeared here since its opening in 1942.
Above: English rock band Pink Floyd met here at the University of Westminster, when at the time it was known as 'Regent Street Polytechnic'.
Now a pedestrianised shopping street in Soho (since 1973), boutique and music venues made Carnaby Street one of London's most fashionable streets in the capital. Popular with followers of the mod and hippie styles, it became one of the coolest destinations associated with 1960's Swinging London. Many well-known performers frequented the area to perform, shop, and socialise.
Above: 23 Heddon Street. This address appears on the cover of David Bowie's The Rise and Fall of Ziggy Stardust and The Spiders from Mars.
Above: 23 Brook Street. A London flat here was once home to Jimi Hendrix. Next door is a former home of German-born composer George Frideric Handel. Both are marked by Blue Plaques.
Above: 67 Brook Street, former home of The Bee Gees
Above: 1 Curzon Square, formerly 9 Curzon Place, where in Flat 12, (Harry Nilsson's flat) both Mamas and Papas singer Cass Elliot and Keith Moon of The Who were found dead (in 1974 and 1978, respectively). Keith Moon actually died in the same bed where Cass Elliot had previously passed away. Keith Moon died of an overdose of Heminevrin tablets. He had woken at 7:30am and he asked his girlfriend to cook him a steak. After she complained about cooking him another meal he said, "If you don't like it, you can [expletive] off". Sadly, these were to be his last words. The flat is located where the top right window of the black-painted property can be seen in the photo above, right.
Above: The Hard Rock Hotel in London, formerly The Cumberland Hotel. The hotel is named on Jimi Hendrix's death certificate as his place of residence, though he actually died, on the morning of September 18, 1970, from an overdose of barbiturates, at the Hotel Samarkand in Lansdowne Crescent, Notting Hill.
Above: 34 Montagu Square. This house in Marylebone is another Rock 'n Roll shrine. It was the home of Beatles' drummer Ringo Starr and the place where John Lennon first lived with Yoko Ono. Here, John was charged with possession of cannabis. Ringo later rented the house out to Jimi Hendrix, but then had to kick him out for trashing the place.
Above: Abbey Road, with its infamous Zebra Crossing, featured on the cover of the Beatles' album with the same name. Also shown above is the entrance to world-renowned Abbey Road Studios. The sheer number of artists, orchestral pieces, film soundtracks and other recordings produced here within the walls of its three studios, over its 90-year history can appear seemingly endless, but for the reader wishing to learn more, a link to the Wikipedia page on Abbey Road Studios may be found on the link Here.
Further Afield
As far as London's Rock and Pop locations are concerned, slightly away from the heart of London's central areas may be found other sites of interest and these are plentiful. For the purposes of this visit, some other places of interest were identified, although time was limited and of course, the list is not exhaustive. Naturally, the choice of destination depends upon the individual's personal tastes and interests, but here follows a list of some of the more popular places to head for:

● Battersea Power Station, as featured on one of Pink Floyd's iconic album covers (Animals). Note that the view shown on the album cover was taken looking approximately northwards, and so a visit to the south side of the river in required, with some optimism that new building developments and works do not obscure the view (approximate location where A3205 road and Savona Street intersect).
● Freddie Mercury's former home and studio, at Garden Lodge on Logan Place. Whilst this may have become a bit of an unofficial shrine to dedicated fans, be aware that it still remains a private address, bequeathed to Mary Austin, close friend of Freddie. Private, in the sense that it is surrounded by a towering privacy wall and on Google Street View, one will find the outside has been fuzzed out. Despite not being able to see much, to fans of Freddie, simply standing outside may be enough to be somewhat moved. Whilst in this part of London, some readers may be interested to be aware that at 153 Cromwell Road may be found the former home of film Director Alfred Hitchcock, marked by a Blue Plaque.
● Further to the above, the Freddie Mercury fan may also be interested in heading over towards the Freddie Mercury Blue Plaque and also eponymously named memorial, which are both located in Feltham.
● Camden Town is another great place to head to for the Rock and Pop fan. Amongst the many attractions here may be found the Amy Winehouse Memorial.
● Returning to David Bowie, a superb mural may be found opposite the Tube Station in Brixton. There were plans to erect a large lightning bolt memorial sculpture as well, nearby, but at the time of writing, this has been put on hold (see BBC article Here).
● At Dartford Railway Station is sited a Blue Plaque (on Platform 2). It marks the site where a certain Mick Jagger and Keith Richards met on 17th October, 1961, and (allegedly) went on to form the Rolling Stones between themselves.
● As previously mentioned, the Samarkand Hotel in Notting Hill marks the site where Jimi Hendrix passed away.
● The Troubadour on Old Brompton Road is one of the few remaining 50's coffee shops in existence in London. Acts who have played here in the past include Jimi Hendrix, Bob Dylan, Elton John, Joni Mitchell, Paul Simon, and Jimmy Page. For a single (relatively small) venue, you can't get much better than that!
The Route:
As mentioned earlier, after identifying the locations to be visited, an optimal walking route was chosen by way of asking Google Maps for directions and copies of the resulting maps (excluding Abbey Road) are shown below:

Back to Top